10 Short And Steamy Reads To Fill Out Your TBR Pile
Fri, 08/03/2012 - 12:02pm — admin
RT BOOK REVIEWS named Delphine Dryden's "Theory of Attraction" the July 2012 RT Seal of Excellence award winner. This erotic romance novella is hot, hot, hot while still having an amazing amount of heart. And for the readers who want more sizzling stories, today the RT staff and author Delphine Dryden take turns rounding up more fantastic short erotic reads. 
***
While we are suggesting that our friends read "Theory of Attraction" (is it still a suggestion if you force someone to download a story?), we got author Delphine Dryden's take on some other steamy shorts for readers to try. Dryden's picks come from all across the vast universe of subgenres, featuring different time periods, fetishes and more! Here is what the author is recommending:
"Willing Victim" is an intense character study, razor-sharp like all Cara McKenna's work. It pushes buttons and boundaries as it explores the concepts of sexual fantasy vs. reality, and the power of consent.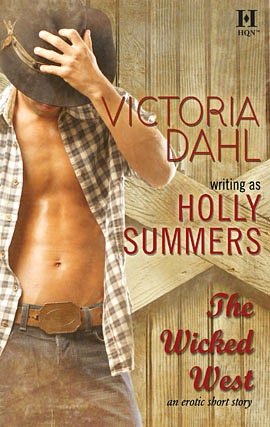 In a quick but fascinating read, "The Wicked West" by Victoria Dahl uses a historical setting to present the psychology of domination and submission with none of the modern terminology or trappings.
I'll read just about anything by Charlotte Stein, because she always makes me ache for her characters and laugh at the same time; I recommend "All Other Things" this one to anyone who prefers their kink in ménage form.
"Seven Day Loan" is a prequel to Tiffany Reisz's current hit The Siren, and features all her usual edge and wit; it also features a character who may be the only male librarian Dominant in the BDSM erotic romance oeuvre.
A little farther off the beaten path, "Generous Fire" by Olivia Waite is a charming Victorianesque alternative-reality romp, easily summed up thusly: steampunk sex machine.
***
The RT editors are a pack of voracious readers, so it should come as no surprise that we've had a pretty serious discussion about which books we would recommend. However, eventually we whittled it down to our top suggestions for readers who want their erotica in short format.
"Northern Exposure" the short story co-written by Mari Carr and Jayne Rylon won RT's Whitney's top spot. This ménage romance features a m/m/f triad who will do whatever it takes to make it work. "Like Dryden's latest, this is a novel that perfectly pairs sizzle with sweetness to create a romance readers won't soon forget!"
"The Watchmaker's Lady" by Heather Massey is RT's Elisa's suggestion. She fought for this book to win a spot on the list because it was so far off the beaten path but remained "delightfully unusual" in the steamiest of sense.
And a special two-for-one entry: RT's Mala picked Alisha Rai's linked novellas "Veiled Desire" and "Veiled Seduction." The multicultural/interracial stories "bring the sexy" but also feature relatable characters whose friendships "feel as real as the heat from the love scenes!"
RT's Audrey picks "Until Paris" by Ellen Trubody. "This e-read was a suggestion from RT's Whitney that I fell in love with because of the historical setting, intriguing premise and well-drawn characters. In total, this is an outstanding read for someone who is looking for a quick book that is truly special."
RT reviewer Dawn's choice for must-read erotic novella is "Morgan's Surprise" by Jayne Rylon, which won the 2011 RT Readers Choice Award for Best Indie Press Erotic Romance. Dawn suggests this read for " ... anyone looking for a story with steamy group sex scenes featuring a buffet of sexy construction workers, complete with a sweet, highly satisfying ending." 
***
We bet that these ten tales will bring you hours of enjoyment! However, if you're still hunting for more RT recommended erotica, be sure to check out our July issue where we serve up an article on BDSM and a red-hot reading list. And stop by RT's Everything Erotica Page for news and reviews about new releases all year long!