2014 Reading Challenge: Erotica
Wed, 01/08/2014 - 10:27am — admin
Listen, we're not that great at sticking to New Year's resolutions. Sure, we should exercise more and eat more vegetables, but shouldn't we have been doing that already? And aren't we fine, just the way we are? We certainly think so. So this year, your RT Web Team decided to take on some resolutions we might actually stick to: reading resolutions! Throughout the year, we're going to let various RT editors, and other book industry folks, pick books from genres we wouldn't necessarily read. We're stretching our minds, here. That's way better than stretching our hamstrings. We'd love it if you would join us! 
This month, we're tackling erotica! RT's Webmistress Extraordinaire Elisa is a big fan of erotica, and she's going to select a title for Web Editor Elissa (we know, it's confusing) and Assistant Web Editor DJ to try. If you don't normally read erotica, won't you read along with us, so we can clutch our pearls together? Or, if you're already a big fan of this one, maybe you want to re-read it in time for Reisz's May release, The Saint!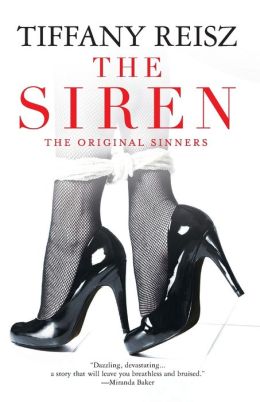 THE SET-UP:
Elisa: The Siren is kind of controversial, not because of the hero's nontraditional occupation (the cat is kinda out of the bag at this point, but if you still don't know, I'm not going to spoilerize), but because I feel weird even calling Søren a hero in this book. Yes, I love Søren, but I'm not going to pretend like the relationship between him and Nora in The Siren isn't questionable just because he redeems himself later on in the series. So why force this book onto two of my favorite YA readers? I'm a little evil, yes, but also I feel like my choice is justified: Reisz's writing is phenomenal, and because this book isn't a tried and true romance, I'm forcing my peers even further out of their comfort zone, and that's the whole point of trying something new, right? Plus, if they start with The Siren, then they can read The Angel, my favorite Original Sinners book.
EXPECTATIONS:
Elissa: I've read erotica here and there, but I'm much more of a YA and romance girl. I like sweet romances, the blush of first young love, the awkwardness of those first meetings. Of course, I have worked at RT for many years, so I don't necessarily think I can be shocked at this point, but we'll see! I know Tiffany's series has some serious fans, so I'm excited to try it. This may be the one New Year's resolution I've kept — ever.  
DJ: I'll be honest, my expectations for The Siren are rather high, what with all the praise the book and series receives. But from what I can tell, I'm going to love it. I'm a bit of an erotica virgin. There, I've said it. Much like Elissa, I generally stick to the teen section of the bookstore and when Elisa suggested we read The Siren, I was a bit hesitant. After all, it's destined to go beyond my usual and rather comfortable YA boundaries. But the immense praise the book and series receives kept me from poo-pooing the book completely, and I think I can handle the heat. So I say, bring it on, Tiffany, bring it on! 
Won't you read (or re-read) along with us? Check back mid-month for our progress report! And for more spicy love stories, visit our Everything Erotica page.