BY RT BOOK REVIEWS, MAY 10, 2011 | PERMALINK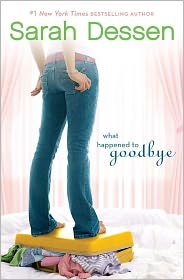 This month author Sarah Dessen releases her latest contemporary YA novel, What Happened to Goodbye. Dessen is known for her emotionally gripping tales and this month she tackles what happens when the desire to make yourself over goes too far.
In the story, high school senior Mclean's life has been a series of goodbyes since she moved in with her divorced dad. As they've gone from town to town, Mclean has reinvented herself each time. And by the time they get to Lakeview, Mclean is so good at the process, she's not even sure who she really is anymore. Will Lakeview be the place that she finally feels free to be the real Mclean?
You can find out if Mclean will be able to re-discover herself when What Happened to Goodbye hits stores today, or enter to win your own copy by leaving a comment below about how you'd make yourself over if you moved to a new town!
10

COMMENTS
SUBSCRIBE TO RSS FEED
EMAIL
SHARE
PERMALINK
READ ENTIRE POST