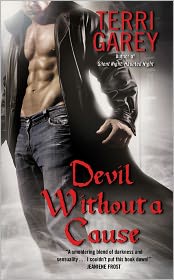 RT brings you an exclusive first look at Terri Garey's upcoming novel, Devil Without a Cause. We go beyond the back cover blurb with the author who shares why she brought back Sammy Divine (aka the Devil) from her popular Nicki Styx series.
***
I've always loved a good story. Some of the first ones I ever recall hearing came straight from the Bible: the expulsion of Adam and Eve from the Garden of Eden, Joseph and his coat of many colors, the parting of the Red Sea by Moses. As I grew older I discovered the world of Greek mythology, fabulous tales of gods and monsters like the deadly Medusa, the fearsome Minotaur, and Cerberus, the ferocious three-headed dog who supposedly guarded the gates to the Underworld. Ancient myths and legends have always captured my imagination, as did the idea of fallen angels and the ever-present, age-old battle of good vs. evil.

In Devil Without a Cause, I got the opportunity to exercise a storyteller's prerogative by adding a bit of a twist to one of the oldest stories of all. Everyone's heard the tale of how the Devil tempted Eve to sin by taking a bite of forbidden fruit, but what if the Devil felt that he was the one tempted, and then forever punished for it? What if the reason he wreaked so much havoc in the world is that, unable to resist the charms of a beautiful, mortal woman, he was angry at mankind for causing him to be cast out of Heaven?


1

COMMENTS
SUBSCRIBE TO RSS FEED
EMAIL
SHARE
PERMALINK
READ ENTIRE POST