BY , MARCH 29, 2011 | PERMALINK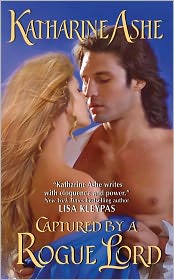 Historical romance author Katharine Ashe's new take on a pirate romance, Captured by a Rogue Lord, got a Top Pick! Now she shares a look at what a pirate's day might actually be like.
Since for my "Rogues of the Sea" Regency trilogy I did quite a lot of research on pirates, I decided to write a little piece about a typical day in the life of a buccaneer. The trouble was that as I wrote it, Alex Savege, the hero of Captured by a Rogue Lord, kept adding his observations. Here I offer you the result, a rakish earl's commentary on the life of a pirate.
A pirate's day follows the sun, commencing at dawn when he stowes his hammock. This is no great hardship, as he often sleeps fore in the sea-tossed gundeck where the bow's pitch is severe, jammed between crewmates who haven't bathed in weeks.
1

COMMENTS
SUBSCRIBE TO RSS FEED
EMAIL
SHARE
PERMALINK
READ ENTIRE POST