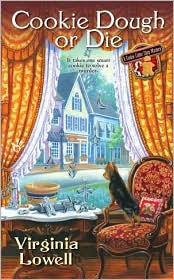 Today we get a chance to chat with mystery author Virginia Lowell about her new series that kicks off with this month's Cookie Dough or Die. We knew we needed to get a special look at how Lowell cooked up this small town romp that will satisfy any mystery-lover with a sweet tooth!
***
What were the easiest things about writing Cookie Dough or Die and what were the most challenging aspects of the story?
The easiest part was, of course, the cookies and cookie cutters. I loved writing scenes where I could sink into my senses and enjoy the tastes, the smells, the visual beauty of decorated cookies. It was great fun to research cookie cutters and imagine ways to use them in the mystery. The most challenging aspects…? I'd have to say, the suspect list— weaving together the characters and lives of potential murderers so that each might seem to have a convincing motive for killing an otherwise admirable victim.
Cookie Dough or Die has Olivia racing to uncover a killer and clear her good name after she is accused of murdering her mentor, Clarisse. Can you share the most valuable piece of advice Clarisse ever gave Olivia?
When Olivia was thinking about starting a business and wondering what she should sell, Clarisse told her, "Follow your loves. If you love cookie cutters, don't sell lawn mowers." So Olivia opened The Gingerbread House and found that her passion for cookie cutters gave her the energy and drive to keep going. It also helped her solve Clarisse's murder.
3

COMMENTS
SUBSCRIBE TO RSS FEED
EMAIL
SHARE
PERMALINK
READ ENTIRE POST