Alexandra Hawkins And The Unexpected Inspiration For Her Latest Heroine
Fri, 08/06/2010 - 12:05pm — admin
Alexandra Hawkins shares how a family emergency inspired her newest historical heroine and what it is that makes Lady Sophia Northam so attractive to the Earl of Rainecourt.
In my new book, Till Dawn With the Devil, readers will be introduced to Lady Sophia Northam, a visually impaired woman who refuses spend the rest of her life as a coddled invalid, much to the chagrin of her wastrel brothers.
When Gabriel "Reign" Housely, the fifth Earl of Rainecourt first encounters Lady Sophia at a ball, he quietly asks her to describe what she sees. Her reply:
"Think of a bottle filled with oil, water, and warm pitch that shifts and churns as I go about my day," she said, her eyelids narrowing as she concentrated on the light. "The pitch is black and impenetrable, the oil distorts and blurs, while the water is what anchors me and permits a certain amount of independence."
Although Reign is unaware of it, this is the moment when he starts to fall in love with the charming heroine. It is not just her beauty that enthralls him. Reign admires Lady Sophia's inner strength, optimism, and her quiet determination to live an independent life. In spite of her poor vision, Lady Sophia is really the first person who truly "sees" Reign and accepts him—flaws and all.
My decision to create a visually impaired heroine surprisingly evolved out of a family crisis. A few years ago, my mother called me one night and told me that she was having "flashes" in her right eye. Before I quit my job to become a stay-at-home mom, I used to work as a medical technician for an ophthalmologist. I'm sure my mom was hoping that she had nothing to worry about. However, she had all the signs of a retinal detachment. I told her that she needed to get to an emergency room immediately. At the ER, an ophthalmologist confirmed my suspicions.
As you can imagine, the weeks afterward were terrifying for my mother. Blood within her eye was obscuring her vision, and she couldn't work or drive a car. Worse still, my mother's retina tore again so she had to have another laser procedure to seal the tiny hemorrhages. Although her recovery was slow, my mother's vision did clear and she returned to work.
A year later, she had a retinal detachment in her left eye.
While the damage to my mother's eyes has faded with time, I have to admit that in quiet moments I've often wondered if I'm destined to have similar eye problems as I get older. It was out of these concerns that I started to play a "what if" game, and out of it, the idea of a partially blind heroine slowly began to take form in my mind.
Although Lady Sophia is far from perfect, I thought she handled the changes Reign introduced to her carefully structured life with courage and grace—noble qualities that I hope I can apply to my own life whenever adversity strikes.
And I think that is part of the appeal of stories that include physically and mentally disabled characters. When a story works, it takes the reader on an emotional journey that inspires and proves once and for all that love really does transcend the physical.
- Alexandra Hawkins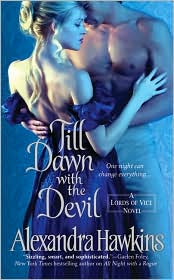 Intrigued by disabled characters? Let us know your thoughts in the comment box below. And make sure to check out the August issue of RT BOOK REVIEWS for the trend watch article Unconditional Love: How heroes and heroines with disabilities are winning readers' hearts. The books spotlighted include Lucy Monroe's Moon Craving, Sabrina Jeffries' To Pleasure a Prince and Debra Webb's Silent Weapon and many more.