All Season Long - A Summer Erotica Giveaway
Thu, 07/12/2012 - 11:44am — admin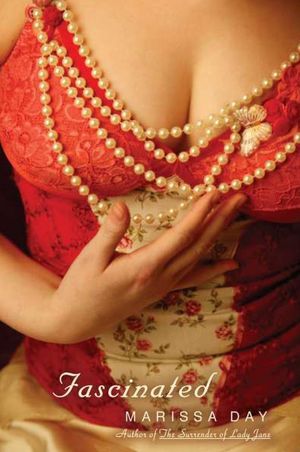 Here at RT, we've been feeling the summer heat wave — hard. Our AC is cranked and our glasses are overflowing with ice water. But that doesn't mean it's too hot to enjoy some of our favorite books of the "adult" persuasion. We're talking sultry, steamy erotic romance, of course! To help get you through the rest of this hotter-than-average summer, we're giving away a bundle of recent releases with something sure to please every erotica fan. From a sizzling historical love story to a sexy romantic suspense, these four books will have you forgetting all about the weather!
When it comes to historical erotica romance with paranormal flair, author Marissa Day has the magic touch. Her June release will leave you Fascinated by a story of a spinster who gets swept away by a highly sought-after nobleman. When Alicia Hartwell meets Lord Edward Carstairs, she's certain he will be the man to help her experience pleasure for the first time. But Edward isn't your average bachelor — he can conjure magic from nature and believes Alicia is under a spell that has prevented her from feeling any sort of lustful desire. But Edward has a plan to break the spell and make the lovely Alicia his!
If contemporary tales of second chances at love are more your speed, Roni Loren's Melt Into You, the third in her Love on the Edge series, will leave you wanting your own irresistible lover — or two. Evan Kennedy has settled into her life with her celebrity fiancé, with just one small problem — he's not into women. But Evan remedies this with a mutual agreement between the two that results in her trip to The Ranch, a sexual resort where all fantasies are fulfilled. The last thing on Evan's mind is her old hometown flame, Jace. But when she runs into him at The Ranch, sparks between them are reignited, but Jace isn't alone. His friend Andre is equally as sexy, and they're both dying to please Evan. But can this threesome stay committed to their no-strings-attached arrangement, or will they become committed to each other?
Do you wish that you could turn up the heat and the suspense in one easy move? It's as simple as picking up a copy of  Tori St. Claire's Lie to Me, a book that will definitely get your pulse pounding. The sequel to Stripped, this second Black Opals adventure follows special agent Alexi Nikanova. He's a member of the elite CIA operative team looking to put a stop to a dangerous Russian human trafficking ring. But when he finds out his first target is the alluring Sasha Zablosky — a woman he shared one delicious night with years ago — his mission becomes much more personal. In addition to stopping the Russians, Alexi must also put a stop to Sasha's relationship with a sheikh and win her heart for good.
And if your fantasies leave you dreaming of wild western romps, then you won't be able to get Maco Durant, the hero of Vonna Harper's latest, out of your head. Even after you put down Canyon Shadows he'll have you imagining riding off into the sunset! It's no secret that dog trainer Shari Afton has the hots for her new rancher neighbor, who comes to her seeking guard dogs after he finds himself in hot water. A sniper has been responsible for shootings on Maco's property, putting both of their lives at risk. But will Maco be able to keep them both safe and will Shari be ready for an uninhibited night with the cowboy? You can learn more about Canyon Shadows by reading the author's guest blog post here!
So which one of these heroes will leave you breathless? The magical Lord, the dynamic duo, the sexy CIA agent or the irresistible cowboy? You can enter to win all four of these heroes stories by telling us which man has your pulse pounding.
GIVEAWAY ALERT: One lucky reader will win all four of these erotic romances. To enter, leave a comment telling us which hero has captured your imagination. You can also e-mail your response, along with your mailing address, with the subject line "Summer Erotica Giveaway." U.S. mailing addresses only, please. The winner will be announced July 27.
BLOG UPDATE 7/27/12: The winner is Camilla Hyde.
For more erotica news and coverage, visit our Everything Erotica Page!