Allen Zadoff's Boy Nobody Kills With Kindness
Mon, 07/01/2013 - 3:15pm — admin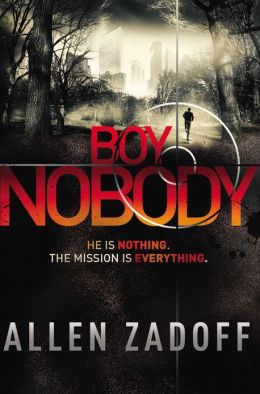 Step aside, Jason Bourne — there's a new, younger assassin in town, who may soon be entertaining audiences on the big screen. That's the hope, at least, as Sony Pictures holds the film rights to Boy Nobody, the latest YA novel by Allen Zadoff. The movie's possible development and production remain a long ways off, but in the meantime, readers can become acquainted with the teen assassin who befriends kids his age in order to target their parents. We caught up with Zadoff to hear about his new book, his background as a writer and common themes in his work.
***
What kinds of books did you like to read when you were younger? How do these preferences affect what you like to write about now?
When I was quite young, I loved wilderness/adventure stories, classics like My Side of the Mountain and Island of Blue Dolphins. I think this is where my fascination with tough heroes who had to survive against terrible odds was born. Though Boy Nobody is an urban thriller, you might recognize some of the same aspects to his character. Boy Nobody is asked to do things that no normal boy can do, to survive alone against the odds, with only his skills and talents to rely on.
How has your background in theater influenced your writing process and subject matter?
Theater is a great love of mine and it was a huge part of my life until I was about 30 years old. I even went to graduate school as a theater director at Harvard. As a result, I read more plays than books when I was young, and I gravitated toward Chekhov and Shakespeare. I was greatly influenced by the emotional depth of Chekhov's characters and Shakespeare's immense talent for storytelling. I try to get both aspects into my work. In Boy Nobody, I'm trying to meld emotional development and genre storytelling with breakneck pace and suspense. I hope readers will find that exciting.
Your books tend to center around themes of identity and self-discovery. Why do these topics pose such an interest to you?
These are the themes of my life! The secret of my books is that I'm always writing about myself.
I've been in recovery from an eating disorder for the last 16 years. By the time I was in my 20s, I weighed 360 pounds and I was dying. In order to heal and lose the weight, I had to get into recovery, dedicating myself to self-discovery, service and a spiritual way of life. I write about this in my memoir Hungry as well as my first YA novel, Food, Girls, and Other Things I Can't Have.
My experience is reflected in my characters, who are often challenged by circumstances beyond their control that force them to re-examine who they are and their purpose for being in the world.
When you read Boy Nobody, you'll see the similarities. A boy trained not to feel, to carry out a singular and deadly task, begins to wake up to his humanity. What happens when a soldier starts to question who he is?
In Boy Nobody, how did you balance the characters' romance with the plot's action and suspense?
Boy Nobody is a teen assassin who befriends the children of his targets so he can kill their parents. That's usually the first description of the book people hear, and it's a good one. But the book is also a coming-of-age story about a soldier who begins to feel and experience life for the first time. Romance is a big part of that because it cracks Boy Nobody open and challenges his worldview.
What's next for Boy Nobody?
Boy Nobody 2 explores questions of patriotism and loyalty. It's bigger and faster, with a lot more twists and turns. Secrets are revealed about Boy Nobody's past and the shadowy organization he works for. It's going to be a thrilling ride.
You can pick up a copy of Boy Nobody, available now! For more genre news and coverage check out RT's Everything Young Adult Page.