Amanda Quick Q&A WITH GIVEAWAY
Wed, 04/28/2010 - 12:15am — admin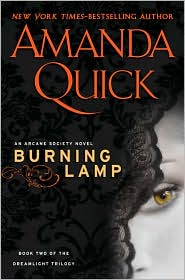 RT Web Editor Morgan Doremus interviews fan-favorite Jayne Ann Krentz writing as Amanda Quick about the Arcane series and her latest release, Burning Lamp. Make sure to check out the GIVEAWAY after the interview!
Morgan Doremus: The characters in your Arcane Society novels have psychic abilities as well as other super-natural powers, which is quite different from your earlier romance novels that did not contain paranormal elements. Can you describe how this evolution in your writing took place?

Amanda Quick: Well, actually, the psychic vibe has popped up again and again in my books over the years. I have always loved working with it but in the earlier titles I kept it low-key. Now, with Arcane, the psychic stuff is front and center. I love this element not only because it allows me to add an eerie factor to the suspense but also because it deepens and intensifies the bond between the hero and heroine.

Incidentally, I draw a sharp distinction between the "psychic" and the "supernatural". You won't find immortal vampires and witches and werewolves in my books. There's no magic involved. My characters are real people with real problems. They just happen to have psychical abilities.  For me, the psychic thing is just one step beyond intuition.

MD: Your latest novel, Burning Lamp, takes place in Victorian England, but instead of the fancy balls, fashionable gowns, and dapper gentlemen courting debutantes that are usually associated with this setting, you instead focus on the dark underworld of historical England. As a writer, what draws you to this side of Victorian England?

AQ: Victorian England is the perfect background for my Arcane novels. Think: Sherlock Holmes, gaslight and a lot of fog. It was an era that took the psychic thing very, very seriously.  It was all the rage for fashionable people to consult mediums who claimed to summon spirits and to attend demonstrations of psychical talents. Serious researchers and scientists conducted experiments and developed theories to explain the paranormal. As I said, an ideal landscape for Arcane.

MD: You are known for your heroine's unusual names – Venetia, Lavinia, Concordia – just to name a few. Does your newest heroine, Adelaide Pyne live up to her unique name?

AQ: Adelaide Pyne is a very determined, very intrepid social reformer. I think the name sounds both determined and intrepid, don't you? Hey, it takes a very determined, intrepid social reformer to save a crime lord from himself.

MD: Readers may be surprised to see that your hero, Griffin, is a self-described 'crime lord' who controls several territories in London. While some of your previous heroes may have broken the law, this is one of the first times that you have made your hero a career criminal. Why was this necessary for the story and how do you think your readers will respond to Griffin?

AQ: Griffin controls a big chunk of London's underworld but like all of my heroes, he is a man who lives by his own code of honor. His word is his bond. When people in his world get into trouble they come to him, not Scotland Yard.

MD: Your Dreamlight Trilogy is part of the larger Arcane Society series in which you write historicals as Amanda Quick, contemporaries as Jayne Ann Krentz, and futuristics as Jayne Castle. Is it difficult to keep all of your pseudonyms in order when you are writing a connected series that takes place in the past, present, and future?

AQ: I never set out to develop three careers! I never dreamed that all three would click with an audience. The idea was to choose the name that worked and drop the other two. Imagine my surprise when all three attracted enthusiastic readers. The result, from my point of view, is wonderful because I never get bored. When I come out of one world I am excited to plunge into another. I do realize that few people can remember three names, however. I'm hoping they will be able to remember the word "Arcane."

MD: When first developing the series, did you know that it would span all ages or was this something that evolved with the series?

AQ: By the time I conceived the Arcane series I knew exactly what I wanted to do with it. The goal was to unite my three fictional landscapes under one logo -- Arcane -- and follow the fortunes and the histories of a number of families down through the generations.

MD: Your Arcane Society novels often delve into dangerous mysteries, but your The Dreamlight Trilogy in particular seems a bit darker and grittier than previous novels in the series. Is this trend going to continue to your third book Midnight Crystal releasing in September 2010?

AQ: Well, there is a dust bunny in Midnight Crystal, of course. His name is Gibson and he provides some humor. But, yes, I do think that the books I'm writing now have a darker edge.  Part of that is a result of the psychic element but it also reflects my own evolution as a writer. I enjoy working with the slightly grittier stories. The stakes are higher. By the way, in Midnight Crystal you'll meet the future director of Jones & Jones, Marlowe Jones. She drives a motorcycle and wears a lot of leather...
*GIVEAWAY ALERT* Three Readers will be chosen at random to receive a copy of Burning Lamp. To enter please e-mail Whitney@RTBOOKREVIEWS.com. To be considered, the subject line of your email must be "Burning Lamp." Winners will be announced on May 7th!