Anna Carey Looks Back On Writing Her Eve Trilogy
Tue, 04/23/2013 - 11:24am — admin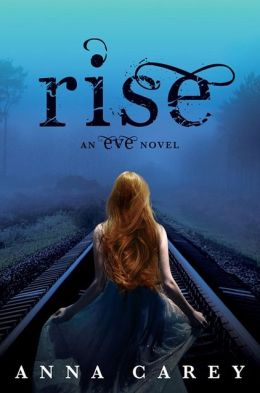 This month marks the end of Anna Carey's Eve Trilogy with Rise. Saying goodbye to a series is always bittersweet, so we decided to ask the author to share her favorite moments from the time she spent writing the trilogy. Here's what she had to say:
I've never been good at creating "Favorite" lists, at narrowing down the best place I've been or the most delicious meal I've ever eaten. But as I celebrated the release of Rise, the final book in the Eve Trilogy, there were moments in this process that felt possessed by a certain magic I'd never experienced before. Here are the highlights from the past three years, from the times I've spent writing and loving these characters.
1. I was on Kauai, one of the Hawaiian islands, when I found out the series had sold. I was hiking through a forest where I didn't have cell service. I hadn't told anyone I was going because I didn't want to jinx myself. No one knew if the book would sell and when, and besides — what could possibly happen in those four days? I remember getting the message on my phone and knowing what it meant. After spending months with these characters, their story was going to be out there for people to read.
2. Before I knew their names or who they were, I kept seeing the same scene in my head: two teenagers on horseback being chased by a bear. The bear was running after them, its head low, the girl urging the boy to go faster. There was magic in that moment, seeing my characters for the first time, then hearing their voices. I remember exactly where I was (Los Feliz Library, third cubicle back) when Eve and Caleb met on the page.
3. One of the most tremendous things about writing Young Adult fiction right now is the audience, which is so broad and so enthusiastic. There is nothing like this community, of book bloggers and readers and fan fiction writers. There are twelve-year-olds reading YA and there are forty-year-olds. Though there isn't one specific moment, my favorite part of writing is hearing from readers via email or Facebook or Twitter. Getting the OMGOMGOMGs and THIS CAN'T BE HAPPENING!!!s. Sharing a story is insanely fun.
4. Just as there are fictional places and people who exist because of these books, there are friendships I've made and experiences I've had that wouldn't have been possible without publication. At the launch party two weeks ago, the crowd was a mix of authors, bloggers, readers, and friends — a reminder that as much as I gave to these books, they've given me much more back.
- Anna Carey
You can pick up a copy of Rise, available in stores and online now. For more genre news and coverage visit our Everything Young Adult Page.