Anne Elizabeth's Fall Comic And Graphic Novel Roundup
Wed, 10/03/2012 - 10:52am — admin
Author of both romance novels and graphic novels, as well as an RT columnist, Anne Elizabeth brings us some news and coverage of comics and graphic novels this season. From New York Comic Con events to the latest, most exciting releases, Anne Elizabeth has got the genre covered!
***

COMIC NEWS
A new surge in "funding" campaigns for comic book creation, production, and launches is burning up the wavelengths. There's an unusual trend by which comic writers, artists, and creators have begun soliciting money for their projects. Much of the action begins at Kickstarter. Where, in exchange for dollars or other types of support, a donor can receive a signed book, make an appearance in a comic, or even become a shareholder in a graphic fiction project. The world of art and publishing is changing and adapting to these financial challenging time ... by leaps and bounds!
ICv2 is having a conference on comics and the digital medium on Wednesday, October 10th at New York Comic Con. For more info, click here and if you'd like to register for the event, you can do so here. I've attended ICv2's sessions before and found them to be enormously helpful in terms of industry growth, predictions, and ground-breaking information on publishing and technology.
LOOKING FOR SOMEONE TO DO A COMIC WITH?
Here are some helpful hints for authors who would like to produce their own comic projects, which is called being "Indie" and is highly respected in the comic book industry. If you're headed to New York Comic Con, you might want to check out Artist Alley. There are some incredibly talented souls there! Some of the criteria you might consider when talking to an artist about a project are: 1) How many projects has the artist completed; 2) How long does it take to produce a page of art and a full comic book of art; 3) How amenable is he or she to corrections and timetables; 4) What was the last project he or she did and how did it work out for them; 5) Make sure you look at their sequential art and that it makes sense for both the storyline and the captions and dialogue; 6) Is the artist willing to work on a consultant basis, so the project remains in your control; and 7) Is the artist willing to go through an agent or some other type of representation so both of you have protection of your rights. I've worked for a big house and a small one, and the above tips are ones that I've found very useful!
HOT NEW TITLES COMING OUR WAY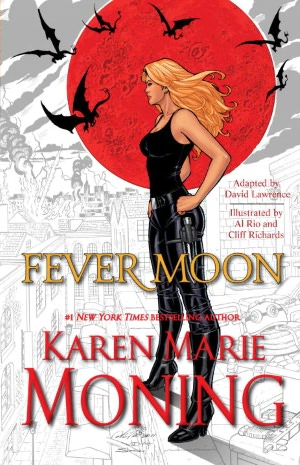 I saw a sneak peak of Mark Siegel's Sailor Twain published by First Second Books. This is an astounding story entwining three lives on a magical journey! From the romantic storyline to the intensely beautiful art, Sailor Twain is an exciting story for adults.
Karen Marie Moning's Fever Moon is still one of the hottest graphic novels out there! It created intense heat at the Comic-Con in San Diego and my in-box is continuing to fill with praise for the art, storyline, and overall exciting book. Congrats, Karen! Del Rey also has a wonderful new Superman tomb discussing the history of the caped crusader entitled Larry Tye's Superman. The graphic novel of George R.R. Martin's A Game of Thrones is spectacularly beautiful! Jonathan Kellerman's Silent Partner is in graphic novel and featuring psychologist Alex Delaware. These are a few my favorites.
Terry Moore (Echo; Strangers in Paradise) has a new series Rachel Rising. In this brand new graphic novel, The Shadow of Death, Moore's adventure begins with the heroine waking in a shallow grave and the journey forward is chilling and haunting. Terry Moore always creates such riveting and astoundingly visceral experiences that they are sure to stick with you!
Caelyn AB Williams and Katie Green Eliza's Journal published by Craigmore Creations. Listed as a book for 'all ages' this intriguing story focused on a teen and her summer experience of visiting her aunt and uncle on Orcas Island. A coming of age story and a thoughtful journey.
MARVEL-ous News: All month long in October will be National Breast Awareness Month and Marvel characters will be wearing pink costumes to show their support. In November, Mark Waid will be writing Indestructible Hulk and artist Leinil Yu is the artist! In January, RT's Comic Column will feature an in-depth interview with Alisa Kwitney as she discusses her new storyline for The Avengers!
ARCHIE is bringing Mega Man into graphic novel and highlighting the New Crusaders: Rise of the Heroes #1. The Married Life Archie Book sporting two separate married experiences–Archie and Betty in one world and Archie and Veronica in another–continue to be popular.
RT BOOKLOVERS CONVENTION UPDATES
At the 2013 RT Convention, we will have wonderful giveaways for the "How to Write A Comic" workshop, which is being led by Alisa Kwitney, Angela Knight and myself. Sponsored by Walter Foster, we have four crafting books on Vampires, Wizards, Zombies, and Fairies. Also, Rockport publishers donated a copy of Creating Comics with insightful techniques and tips from some of comics most famous superhero creators, artists, and writers.
We've learned through the grapevine that Romance Authors Renee Bernard and C.H. Admirand's digital comics will be launching next year and there might be an exclusive comic printing just for the Convention. Congrats to Renee and C.H. on winning the Sea Lion Books LLC contract for seeing your stories and characters come to live!
- Happy reading! :) AE
RT's columnist on comics, manga and graphic novels, Anne Elizabeth will be at the New York Comic Con in Booth #1028. Her third graphic novel, The Power Play, and short comic, Zombie Power, will be available to fans at NYCC before it lists in stores and on Amazon. You might see AE running around the Con hunting up new interviews and news for RT, too.