Anne Marsh And The Fallen Angels - With Giveaway!
Mon, 08/23/2010 - 10:21am — admin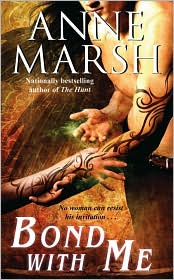 Author Anne Marsh kicks off her blog tour for Bond With Me by sharing her favorite fallen angels and how she knew that Bond With Me would have to be set in Moscow. The author will be by all day to answer any comments left on this blog entry and don't miss the GIVEAWAY at the end of this post!
For Bond With Me, my September 2010 Dorchester e-book release, I chose to make my hero a fallen angel. I set my book in Moscow of the near-future because that Russian city has always been for me a dark, exotic and slightly otherworldly place—and because the Slavic take on the Fall is equally dark and compelling.
Russian beliefs describe the battle in Heaven between Michael the Archangel, and a rebellious cadre of angels from the point of view that Michael was right and the rebels wrong—as the cautionary ending of that epic battle bears out. The rebels were exiled, kicked out of Heaven. In the Old Church Slavonic retellings of this story (and if you're looking for a dark, brutal, exotic read, I heartily recommend medieval religious texts of the Slavonic persuasion to you—they pull no punches in their descriptions of hell and damnation), the rebel angels were declared fallen angels and literally thrown out of Heaven. The former angels fell, most of them landing on Earth, but some of them punched through the surface of our world and kept on falling until they landed in the molten core of lava beneath the surface. Some fell further, into hell, and became demons. The ones who landed in our world became wood sprites, water sprites, and goblins. The goblins—now dark-visaged, ravaged and exiled—fascinated me. How would an alpha male make the transition from Heaven's golden boy to a dark outlaw?
Dark angels are the ultimate bad boys. They've been trumpeted recently as the "new" vampire for romance novels and, in the last two years, there has been more than one fabulously sexy, unbelievably alpha dark angel. Some of my particular favorites include Nalini Singh (Archangel's Kiss), J.R. Ward (Covet and the soon-to-hit shelves Crave), Gena Showalter (Darkest Angel) and Meljean Brook (Demon Blood). 
After all, what's sexier than a fallen angel who will stop at nothing to redeem his lost soul, to defend Heaven from Hell, or to find the love of his life? Darkly sensual, Bond With Me's fallen angels have the ability to grant a human one wish—any wish. In exchange, however, the human bonds with the angel, thereby giving the fallen angel full access to her soul. What would your price be? And what would it take to convince an independent heroine with a decided mind of her own to give herself into the sensual keeping of a fallen angel?
Mischka Baran, Bond With Me's heroine, is about to find out what she would sell her soul for—even though she has no intention of hooking up with one of the Fallen. Not even after Brends gives her an unforgettable taste of the sin and seduction he can deliver with his wicked lips. She's holding out for something more—and the fallen angel who wants to own her soul is about to learn that Mischka is the key to his salvation and regaining his lost wings. What would he do for that redemption?
- Anne Marsh
Anne Marsh will be stopping by all day long to answer your questions and chat with you about Moscow, your favorite fallen angels and Bond With Me. Ten people who leave blog comments will receive limited-edition Bond With Me book cards. 
GIVEAWAY ALERT: Two Winners will receive Bond With Me in e-book format. And one grand prize winner will also receive the Tahiti gift basket pictured below which includes the following: A Tahitian black pearl pendent, shell jewelry, vanilla-scented sachets, tiare and coconut soaps and coconut-scented monoi oil. All of the products in the basket come from the Tahitian islands and the pearls are from the pearl farms of Manihi.  
Enter to win Bond With Me and the Tahitian gift basket by leaving a comment on this blog or emailing here with your comment, mailing address and the subject line "Bond With Me Gift Basket Giveaway". This contest is open to RT's US and International readers! The winners will be announced on September 1st.
BLOG UPDATE 9/2/2010: And The Winners Are ... Caity_Mack, Lifespan and Ghostsinner. And remember, the first ten people to leave blog comments also win a Bond With Me limited-edition book card!