Announcing The Winners Of The Sweet Valley Confidential: Ten Years Later Contest
Fri, 04/15/2011 - 10:36am — admin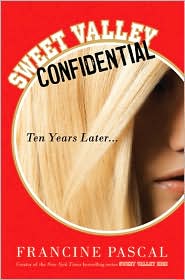 In our March issue, we ran an interview and contest with the legendary Francine Pascal, Sweet Valley High creator. We asked readers to share your favorite memories of the series in our Sweet Valley Contest and were thrilled at the entries which brought back sweet memories for us. Winners have been chosen and will each receive a copy of Sweet Valley Confidential: Ten Years Later, which is in stores now.
M. says: My favorite memory is when my family was living in California, and we went to the library at least twice a week if not more and as soon as that car stopped, my sister and I would be out of the car so fast that you couldn't see us for the dust. My mom would holler at us and tell us to "walk" into the library. Needless to say, we "walked" at a very very rapid pace, each of us elbowing the other in order to be the first to reach the newest Sweet Valley High books.
Stacie says: My strongest memory from reading Sweet Valley High would be when Elizabeth was kidnapped. I believe a mentally disturbed orderly at the hospital where she was a candy striper was the kidnapper. I remember how he tried to feed her frozen waffles without heating them. I also remember how scared and lost Jessica was without Liz.
Amber remembers: Wow, I have to say my favorite memory isn't necessarily from the books, but for what it did for me and my mom. I collected all of the books and I remember my mom and I always going to the bookstore, and my mom always helping me search for new ones that I hadn't already read. Then when we were done we'd go home and lay down in her bed and read. It brought us a lot closer. To this day I still love to go and cuddle up next to her while she's reading.
Anya recalls (and we remember this one, too!): One of my favorite, funny Sweet Valley High memories of Jessica and Elizabeth Wakefield is from Crash Landing. Jessica is taking a cooking class and in reality is trying to impress the teacher with her skills. She wants to show off her skills and insists on cooking for her family. She ends up accidently poisoning all of them by improperly cooking the food.
And we think Katie speaks for us all when she says: My favorite memory of SVH is just enjoying getting away to another world, one where I am the most popular, beautiful girl in school. These girls along with other characters in the books I read (Hardy Boys, Babysitters' Club, and Boxcar Kids) gave me confidence to succeed and be proud of it!
You can read the *Web Exclusive Review* of Sweet Valley Confidential: Ten Years Later and pick up your own copy in stores now!