Aprilynne Pike's Tips For Keeping It Real In Paranormal Romance
Mon, 04/29/2013 - 9:13am — admin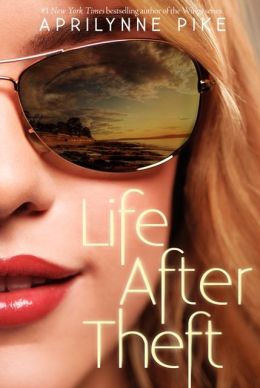 Author of the Wings series, among other fantasy YA titles, Aprilynne Pike certainly knows a thing or two about penning fantastic paranormal romances. But her latest release, Life After Theft, veers towards contemporary, while still maintaining a touch of supernatural flavor. Pike's newest heroine Kimberlee is a ghost who haunts her former high school. No one's the wiser until new guy Jeff shows up and reveals he can see Kimberlee. In order to move on into the afterlife, Kimberlee, with Jeff's help, must right her wrongs. Today the author shares her tips for crafting a paranormal story with a realistic feel, something that's not always an easy feat.
It's been five years since my agent first read my manuscript of Life After Theft, but in those five years, there's one phrase that I must have heard from her a dozen times. "It feels so real I forget that it's paranormal." And maybe you don't think that's a compliment, but I do. Because making a contemporary fantasy feel . . . well, real, is one of the hardest parts of writing it.
Because sadly, we are Muggles living in a Muggle world. Without magic, without unicorns, without even vampires, I'm sad to say. So how do you convince a reader to believe whatever brand of magic you've put into your novel? Here are a few of my suggestions:
1. Make Rules: Contemporary paranormal and fantasy often get dismissed because, how bad can the problems be if you have a magic wand? But the truth is, only bad fantasy solves everything that way. No one is going to believe your world if you have magic that does everything for your character, with very little effort from them at all. Even though your character might have incredible, insanely-powerful magic, find a way to harness it. Give your character limits on their magic (the more the better, really) and make them really work to master it. If it's easy, it's not worth it.
2. Surround Your Magical With the Mundane: Lots of humans. This may sound overly simple, but your novel will feel much more real if most of the characters are real. This doesn't mean you have to have mostly human main characters, necessarily. But put them in an environment where they're surrounded by people just like you and me. As a writer for teens, school is always a good place for me to do that, but if you write adult consider a workplace or college. Then, when the magic comes out, it's vivid color amid a world of black and white, and all the more delightful!
3. It's all Relative: Your readers have got to relate to your characters. Your character may be an alien zombie in hiding, but does she have the same insecurities about her love life that your readers do? That, perhaps more than anything else, is what makes paranormal characters feel real. Maybe their power struggle is with the leader of a secret dark realm, but does it feel like the struggle many readers have with their boss? If you can make the reader think, "Hey, she's just like me," then your battle is half-won!
I know there are more — and goodness knows there are exceptions! — but these are the three things I keep in mind every time I sit down to write a book. Because as I tell my readers, the two things you can always be sure to find in my books are magic and Kissing! But even so, there has to be more. There has to be normalcy and the everyday. Because my job when I introduce a reader to a fantasy world, is to convince them that maybe — just maybe — it could be real.
- Aprilynne Pike
You can pick up a copy of Life After Theft, available tomorrow. And don't miss meeting author Aprilynne Pike at the RT Booklovers Convention in Kansas City this week. For more romance visit our Everything Young Adult Page.