Into the Archives with Jill Shalvis
Wed, 02/19/2014 - 11:10am — admin
Who doesn't love a funny, sexy contemporary romance? We're certainly big fans of those modern-day love stories, which means we are big Jill Shalvis fans! To celebrate her latest release, RT Top Pick! Once in a Lifetime, we got her to go Into the archives with us and tell us her three favorite novels from her very own backlist. Prepare your TBR piles!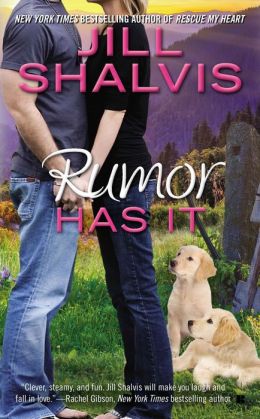 Rumor Has It: One of my personal favorites, because the heroine is really, really smart, and really, really socially inept.  When Kate sees a cute guy, she gets nervous and spouts science facts. I laughed every time I had her say something ridiculous in front of hot, sexy Griffin Reid, like "pigs orgasm in thirty-minute intervals."  And then of course Grif had only one response to that, a question that made our poor Kate even more nervous. "The real or faked kind of orgasms?"  Most fun I had researching ever.
Always On My Mind: Look, I think we all know I have a big thing for firefighters. I can't help myself. A hero who puts life and limb on the line every day for the sake of perfect strangers? Love. And firefighter Jack Harper, a guy trying to live up to his dad's legacy and a town's expectations, had all my love from page one. Plus he's sexy and a total smartass. My favorite type.
Once In A Lifetime: This book is a fave because it flat out made me laugh as I wrote it. Like when the heroine, bad girl Aubrey Wellington, throws her drink in sexy, grumpy, alpha hero Ben Mc Daniel's face —by accident. At least mostly. But then she runs and hides in what turns out to be an AA meeting and the town thinks she's an alcoholic. Or when Ben figures out she's made a list of people she's wronged and is trying to fix those wrongs, and he wonders why the list isn't a lot longer than it is. Or when Aubrey gets a little tipsy and throws rocks at Ben's window like a scene right out of Say Anything.
- Jill Shalvis

These all sound so great, don't they? They're all available online and in stores now. For more love stories through the ages, be sure to visit our Everything Romance page.