Into the Archives: Mary Balogh
Tue, 09/10/2013 - 10:53am — admin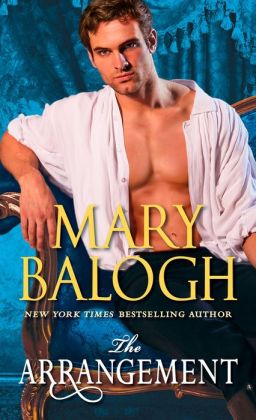 One of the best things about the romance industry is that there are some beloved authors who keep writing and writing and writing — incredible, passionate, love stories. This embarrassment of riches leaves readers with a perplexing question: Where to start? To which we say: Who better to ask than the author herself?
We welcome you to our new web feature, Into the Archives, where we plumb the depths of RT's extensive review collection to better organize your TBR pile. Today we're featuring Mary Balogh, who's written nearly 90 books over the past 28 years. And she's still cranking out hits, this month's The Arrangement received an RT Top Pick! We asked Mary to pick her five favorites from her backlist, and here's what she had to say:
***

1. A Summer to Remember (2002)
I think this may be the best love story I have written. Kit and Lauren are equally wounded by their pasts and equally help each other on the road to healing and wholeness, falling deeply in love in the process. And this is the book that introduces the Bedwyns of the ever popular Slightly series.
2. More than a Mistress (2001)
I loved creating Jocelyn Dudley, Duke of Tresham, a ruthless, often bad-tempered alpha male who is revealed to have hidden depths to his character. And I loved writing the quieter, more dignified Jane Ingleby, who stands up to him every step of their journey together and won't let him get away with a thing.
3. Longing (1994)
This book, set in my native Wales, centers about a definite period of history when the Welsh coalminers were fighting against poor conditions in the mines and the owners, often wealthy Englishmen, were not about to give in to their demands. The Marquess of Craille is a new owner while Siân Jones is the illegitimate daughter of another owner but has sided with the workers. I wrote their love story with all the passion of my love for my native land!
4. Silent Melody (1997)
Emily Marlowe is a deaf mute in an age when many deaf persons were confined to insane asylums. Lord Ashley Kendrick is a man who must learn that she has a rich inner life and has as much to offer any relationship between them as he does. Writing a novel with very little dialogue was a particular challenge!
5. Slightly Dangerous (2004)
By the time I came to writing this, the last of the Slightly books, my readers were in eager anticipation of the story of Wulfric Bedwyn, Duke of Bewcastle, with his coldly contained, haughty aristocratic manner, his ever-present quizzing glass, his pale silver eyes — and his devotion to the wellbeing of his brothers and sisters. I was terrified, quite frankly, because I knew I had only one chance to get his story exactly right. And then the bright and cheerful, klutzy Christine Derrick stepped into the picture, exactly the wrong heroine for him, but insisting that she give it a try.
***
Do you have a favorite Mary Balogh title? Let us know what it is in the comments!Ready to start reading? The Arrangement is available in stores and online now, as are many of Mary's other wonderful love stories. And for more love stories through the ages, be sure to visit our Everything Romance page.