Around The World: Travelling To Prague With Alyson Richman
Tue, 09/06/2011 - 11:31am — admin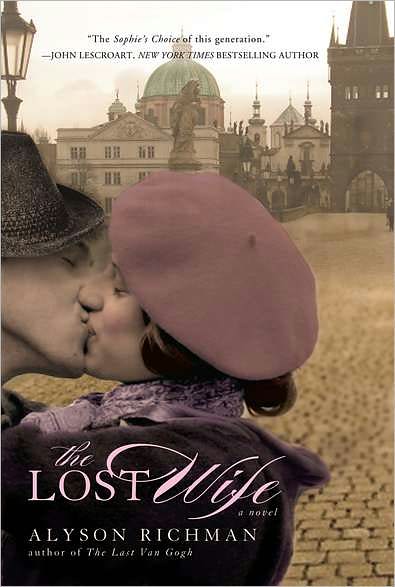 Mainstream author Alyson Richman's The Lost Wife explores Jewish culture in Prague during World War II. It was love at first sight for Lenka and Josef, but Nazi invasion sends Josef fleeing to America while Lenka and her family are sent to a concentration camp. Today, the author gives us an insider's look at the city of Prague, the inspiration for her book's Czech backdrop and the difficulties of writing about life in a concentration camp.

***
Definitely, the story. I have always been interested in artists and the creative process, as my mother is an artist and I'm a painter, myself. All my novels begin with a question that I don't know the answer to and with this novel, it was: "How does an artist create under the most horrific and difficult circumstances?" That question brought me to those artists who struggled to create and document their experiences in the Holocaust.
Still, I didn't know how I was going to frame my novel and I knew that I wanted to incorporate a love story into the novel. Then, I was getting my hair cut and I overheard this amazing story about a couple that had been married before the war and then became separated, thinking the other had died. Sixty years later they rediscovered each other at the wedding of their grandchildren (they had each remarried and went on to have children in their second marriages.) When I heard that story, I knew I had the beginning of my novel! I would use it as a springboard and invent how they fell in love, became separated, and then have them reunite at the end of the novel.
Your characters Lenka and Josef meet and fall in love in Prague. What is it about this city that inspired you to set a romance there? 
I was lucky enough to travel to Prague on three separate occasions and, each time I went, I fell in love with the city's beauty and charm. It's a wonderful walking city, with little secret passageways that often open up onto large town squares. I remember one of my first impressions was that there was music everywhere. You could hear the sound of a violin coming from an open window or an entire concert inside a Baroque church. For me, so much of romance is about the senses: so the visual beauty of Prague, the delicate tastes of the pastries, the storefronts filled with etched-glass, the moonlight over Charles' Bridge...it was a great place for a budding romance to unfold.
But aside from its charm, I knew that there was a very strong artistic community in the Jewish ghetto of Terezin during WWII, which was located just outside Prague. So having Prague be the backdrop for the beginning romance between Josef and Lenka was a fitting choice because I could have the first chapters before the war begin against a beautiful backdrop and then slowly migrate into the later chapters where Lenka is sent to the ghetto and is forced to use her artistic skill to survive.
Thinking about Prague, if you had to describe it in three words, what would they be?
Timeless, Enchanting, Layered.
How did you conduct research about the city? Have you ever visited?
I had been two Prague twice before I began research for The Lost Wife. When I began researching the novel I was able to connect with a survivor of Terezin who was able to put me in contact with an artist who, like Lenka, survived the war using her artistic skill in Terezin and whose husband actually helped bury much of the artwork done by the artists who forged their own secret resistance. It was wonderful to be able to go there and to look around me and know that I would be incorporating this beautiful city into my novel.
During World War II Lenka, a Jew, is sent to Terezin, a concentration camp, with her family. How did you get into the mindset for writing about the camp?
When you write a novel, you spend so much time in your characters' heads, that you often feel you've become them. So by the time Lenka arrives in the camp, my mind was tightly entwined with hers. I did extensive research: traveling to Terezin, interviewing survivors, and also listening to many, many oral histories of survivors that have their experiences on video archive at the United States Holocaust Museum in Washington D.C. Because of that research, I had a lot to draw upon when I was trying to accurately portray Lenka's arrival in the camp.
If you had to personify Terezin, how would you describe it?
Bleak, crowded and inhumane.
Do you have any personal stories tied to the concentration camp?
I don't have any personal stories from my own family, but I have many from the survivors who shared their experiences with me. One was particularly poignant, a woman who was married three times during the War to the same husband. Twice in Terezin. The first time they married in a religious ceremony, but then the Nazis said that all religious ceremonies were null and void. Then they married in a civil ceremony within the ghetto. After the war, they both miraculously survived, but no papers of their previous union could be found. So they married a third time, after the war was over. They went on to be married for over sixty years.
What would you like readers to take away about the settings from your book?
I hope the settings will inspire my readers to travel and to see the world. When we travel we learn about others- their culture, their history and their stories. I hope my readers who can't make the trip to Prague or Terezin will be able to at least learn from history woven into the novel and envision the places that I describe.
***
You can pick up your own copy of The Lost Wife in stores today! For more genre coverage and news visit our Everything Mainstream Page.