Ready for an excerpt break? We know we are! Today we've got a treat for you, Virna DePaul's Turned, a intriguing vampire romance. It's the story of FBI Agent and vampire Ty, who's trying to recruit ex-gang member Ana to join Belladonna, a secret agency that monitors vampires. RT reviewer Melanie promises a crisp narrative and stellar pacing. Want to take a peek? Read on, vampire fans!
Ty strode out of Ana's coffee shop and kept walking despite the strong urge to go back to her. To kiss her again. To do far more to her soft lips, her slick tongue, and her warm, fragrant body.
Lust the likes of which he'd never felt before, even during the first two months of his transition, was riding him hard, making him nearly dizzy. When he'd first been turned, his lust had been for sex, regardless of who it was with. Now, his lust seemed reserved for Ana alone.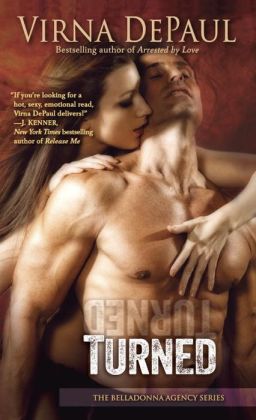 0

COMMENTS
SUBSCRIBE TO RSS FEED
EMAIL
SHARE
PERMALINK
READ ENTIRE POST