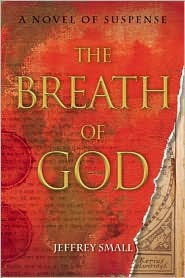 Jeffrey Small's March suspense, The Breath of God, received an RT Top Pick! This debut book is plotted around a real historical document from 1887 that continues to be controversial. So we knew we would have to go straight to the author to answers about this intriguing new tale!
***
Writing about missing texts following Jesus' life opens you up to criticism from Biblical and religious readers. Were you at all intimidated by this?
I suspected that two of the novel's themes would be controversial: exploring the mystery behind what Jesus was doing in the twenty years of his life that the Bible doesn't address that made him into the man he became and the importance of inter-religious dialogue so that we can understand the influences among and the common themes between the world's religions. Throughout history, religion has been one of the major causes of war, persecution, and exclusion. We see these problems ongoing today with Islamic terrorism and with what I call "Country Club Christianity"—the attitude that "I'm saved, but you're not" that leads to persecution of gays, discrimination against those of other religions, and the relegation of women to subservient roles. By having more dialogue among religions, we cannot only lessen these tensions by exploring the commonalities rather than the differences among the great faiths of the world, but we can also enlighten our own faiths by opening our minds to ideas we may not have considered. Rather than being intimidated by a reaction to these themes, I felt a calling to bring them out into the open.
1

COMMENTS
SUBSCRIBE TO RSS FEED
EMAIL
SHARE
PERMALINK
READ ENTIRE POST