August Science Fiction And Fantasy Overview
Mon, 08/13/2012 - 12:31pm — admin
This month's science fiction and fantasy releases will leave readers over the moon! Today we're playing tour guide and pointing out some August hot spots of the genre. First up, we give fantasy the royal treatment by spotlighting stories that feature adventures of kings, queens and other members of the court. Next, steampunk is in style this month with three new releases in the genre, so we went straight to the authors to find out what their favorite piece of steampunk apparel is! After that, we turn our focus to a brand new fantasy E-book release from Anna Scarlett. And finally, it's back to Shannara with the first installment in Terry Brooks' new The Dark Legacy of Shannara trilogy!
KINGS AND QUEENS OF FANTASY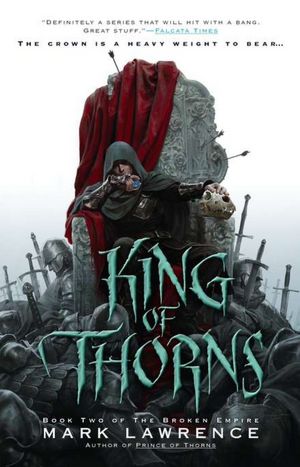 Monarchy rules in three of this month's fantasy releases. Mark Lawrence continues his Broken Empire trilogy with King of Thorns, which follows antihero Jorg as he rises from prince to king and must face the repercussions of avenging his mother and brother's deaths in a violent, gruesome way. Continuing the courtly theme, Trudi Canavan's The Traitor Queen ends the author's Traitor Spy series with a bang. Magician Lorkin has received direct orders from the Traitor Queen to forge an alliance between the Traitors and his people, but when the Sachakan king tries to coax Lorkin into betraying the Traitors, this magician finds himself caught in a web of royal trickery and deceit. But if any of August's characters know anything about deceit, it's the sisters Nemienne and Karah from Rachel Neumeier's new fantasy House of Shadows. After the duo gets mixed up in a plan to kill the prince of Lonne, they're catapulted into a magical adventure that will leave them uncovering hidden truths about their world. Want to find out what happens in these three tales of courtly intrigue? Unlike the characters' paths, yours is clear: pick up copies of these three new releases and enjoy the ride!
FULL STEAM AHEAD
Mary Wine in her steampunk gear
Tighten your corsets, wipe the grime off your goggles and get ready for three new steam-powered adventures! Lilith Saintcrow propels readers into alternative London with The Iron Wyrm Affair. Detective Archibald Clare and sorceress Emma Bannon must team up to put an end to conspiracies that threaten their nation, that is, if they can figure out how to get along first! Janette, the heroine of Mary Wine's latest release proves that A Lady Can Never Be Too Curious when she sneaks into the headquarters of The Illuminati — a group that rejects polite society's expectations. But when Janette decides to join their ranks, her curiosity may get the best of her. And finally, steampunk meets vampire in Beth McMaster's debut, Kiss of Steel. Honoria Todd is determined to keep her and her siblings safe from the ruthless vampires who rule London — even if it means teaming up with the dark and mysterious vampire Blade. To give you an insider's look into their writing, authors Mary Wine and Beth McMaster share their favorite piece of steampunk apparel:
Steam Punk apparel, isn't it all about the dress? Not really, because one would be terribly remiss if you overlooked the button up boots or hat. Since A Lady Can Never Be Too Curious is an August release, I thought it a fine reason to go shopping for a new Victorian dress. I never, NEVER, have enough silk. The stripes in this piece of silk taffeta really made up well and don't you just love this backdrop? It is the paneling that once adorned the walls of the Olympic (ocean liner) first class dining room. Today it is once more aboard an ocean liner, in this case, the Millennium. I had the privilege of going to dinner with my husband one night and we thought it most fitting that we attend in Victorian attire. After all, they said 'Formal night' but they never mentioned a year! My little black velvet hat is there but it's blending a bit into the backdrop. Whatever you wear to express your Steam Punkness … I hope you have a blast doing it.
- Mary Wine
Aesthetically speaking, my favorite Steampunk accessories are the clothes; sexy corsets, lacey gloves, a dazzling set of brass goggles … But the sci-fi heart of me loves the weapons. No self-respecting lady would be caught dead without a means of protection from the dangerous streets of London. My heroine prefers a .17 caliber ladies pistol, complete with firebolt bullets designed by her father, brass fittings and a pearl inlay on the hand piece. It may be small but it packs a punch. The firebolts are designed to explode on impact and can even take down a vampire at close range.
- Beth McMaster
A DIGITAL-FIRST DEBUT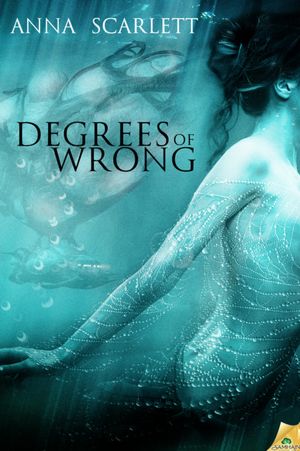 This month new author Anna Scarlett treats us to her first full-length release, Degrees of Wrong, which takes readers on a thrilling futuristic adventure with a touch of romance. Dr. Elyse Morgan is recruited by the United Nations and sent to work aboard one of their underwater facilities to help find a cure for the deadly HTN4 virus that has wiped out most of the Earth's population. In exchange for her work, Elyse gets to be one of the planet's few survivors. While aboard the U.N.'s vessel, Elyse meets Captain Nicoli Marek, who she's immediately drawn to but has reservations about acting on her feelings because of Nicoli's engagement. Part of a politically influential family, Nicoli's upcoming wedding is purely for show and he finds Elyse to be positively alluring. When a spy infiltrates the U.N.'s ship, Elyse and Nicoli become caught up in a scandal filled with espionage and lies. Saving the world and getting the man of her dreams sounds like more than Elyse bargained for, but we're excited to see if she prevails when the book becomes available for e-readers everywhere on August 28th!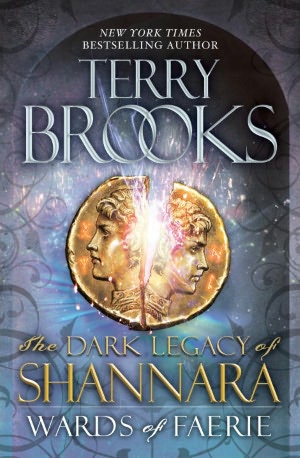 NEW FROM A GENRE SUPERSTAR
35 years after Terry Brooks' game-changer The Sword of Shannara debuted, the author's Shannara series is still going strong with the first in Brooks' Dark Legacy of Shannara trilogy, this month's Wards of Faerie. This action-packed fantasy chronicles Aphenglow Elessedil's quest for elfstones, which harbor a lost form of Elven magic. The part-Elf, part-Druid heroine discovers a lost diary that holds the key to finding the elfstones, and along with her fellow Druids, embarks on a dangerous quest across the Four Lands in order to find the stones that will protect their kind. Aside from navigating unfamiliar terrain and encountering mysterious creatures, Aphenglow and the Druids must stop the Prime Minister of the Federation, whose goal is to eradicate all magic, from getting in their way. We're anxious to see what Brooks has in store for these new heroes.
For more genre coverage be sure to keep your eye on the RT Daily Blog and check out RT's Everything Science Fiction & Fantasy Page!