Author Cynthia Eden Looks Into A Killer's Mind - With Giveaway!
Fri, 02/04/2011 - 5:46pm — admin
Go behind the scenes of author Cynthia Eden writing process and learn how she comes up with her chilling romantic suspenses. Her latest tale, this month's Deadly Heat got an RT Top Pick! and at the end of this message you can check out an excerpt and enter to win a copy of this novel that RT Reviewer Annette Elton calls "seriously hot!"
When people ask me what I do for a living, I usually smile and say, "I write about monsters." It's true. I do. I spend my days deep in the minds of monsters—whether they are supernatural monsters in my paranormal books or human killers in my romantic suspense tales. My life is all about monsters.
When I first started writing my Deadly romantic suspense series for Grand Central, I knew that I'd have to go deep into the minds of killers. After all, my Deadly series focuses on killers. The agents in my fictional Serial Services Division spend their days and nights tracking and apprehending serials—killers, rapists, kidnappers. Not some fun, Hallmark Card-type job. Scary. Intense.
Fun to write (not so much fun to actually live).
So today I thought I'd talk about how I went into a killer's mind. (My husband has nervously told me a few times that he thinks I enjoy writing about killers a bit too much. I also suspect he worries that I know a bit too much about body disposal, but that's another story…)
Step One: Give up fear. In my Deadly books, the victims can experience fear. The heroine and hero can fear, but my villain? He's too dark for the fear. To write from his perspective, I needed to stop worrying about fear, too. (Not exactly easy since my first romantic suspense book was actually titled Deadly Fear.)
Step Two: Talk to the experts. I'm lucky. I have a very good friend who has her Ph.D. in psychology. So, over drinks, I grilled her about sociopaths and psychopaths and insanity. Yes, the people near us also flashed nervous stares (just like my husband's), but we ignored them. Soon the booths around us cleared out, and I learned a great deal of interesting information.
Step Three: Research. Research. Research. My romantic suspense novels are extremely research intensive. In Deadly Heat an arsonist is lighting the night on fire. To research arson, I visited fire scenes, I talked with fire fighters (no, not a hardship at all), toured fire stations and read dozens of books. I wanted my account of my arsonist to be as accurate as possible, and I also wanted my portrayal of my heroine, fire fighter Lora Spade, to be accurate. Once upon a time, Lora was given a chance at happiness, but the arsonist took that happiness away from her when he killed her lover. Now, Lora wants vengeance. I want that for her.
Step Four: Push limits. I didn't hold back when I wrote about the Phoenix arsonist. He's twisted, he's broken, and I wanted him to seem real to readers. When you fear the monsters in the dark—he is one of those monsters.
And that's my killer how-to guide. A few easy steps…well, maybe not all easy.  
I want to thank the wonderful folks at RT (especially Morgan) for inviting me to post. I love sharing writing stories.
But now, I hope you'll share some information with me. I'd like to know…what books have you read that scared you? What killers got into your mind and wouldn't let go?  Three commenters will be picked at random to win copies of Deadly Heat.
Thank you!
Cynthia Eden
Read an excerpt from Deadly Heat >>
GIVEAWAY ALERT: Three lucky winners will receive a copy of Deadly Heat to enter leave a comment about what books scare you. The winners will be announced on February 15th.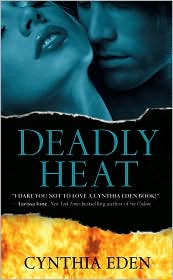 Blog Update 2/18/2011: And the winners are quimbayai, mrsworldwidewebb and Oliva Love!