Author Eden Bradley Busts The Myths Surrounding BDSM
Mon, 04/23/2012 - 12:16pm — admin
The term "BDSM" might be new to you, perhaps you are just hearing about it in the wake of all the buzz around E.L. James' enormously popular Fifty Shades books. There's no denying that the recent surge in popularity of erotic writing featuring BDSM has been pronounced, however, this also means that misconceptions about BDSM are flying faster than ever. Today author Eden Bradley (aka Eve Berlin), whose RT Top Pick! rated tale, The Dark Garden, has just been digitally released, is our guide to the BDSM as she plays "mythbuster" and gets to some essential truths about this type of bedroom play.
Let's begin with a definition of BDSM: The acronym "BDSM" stands for Bondage and Discipline, Domination and Submission, Sadism and Masochism. This includes a long and varied list of sexual and sensual practices with widely varying degrees of extremity.
MYTH: People who are into BDSM are scary perverts — run!
BUSTED! The people who are into BDSM — from a little spanking to the more extreme practices — could be anyone walking down the street. I've met some of the kindest, most generous people at BDSM clubs and lectures.
MYTH: People who are into BDSM are easily recognizable by their leather pants and spiked collars.
BUSTED! Well, perhaps you'd see these things at a club, but you'd be surprised by who's into BDSM. They are fire fighters, librarians, nurses, psychologists, lawyers, accountants — they look just like anyone else. They could be anyone you meet on any given day. And now you're looking around to see who might be hiding their secret kinky life, aren't you?
MYTH: People who are into dominant and submissive role play and sadism and masochism are mentally ill.
BUSTED! Actually, fetishes were removed from the DSM (the system used by the American Psychiatric Association to classify psychological disorders) in 1987. To put this late date into perspective, this was the year pre-menstrual and sexual orientation disorders were removed as psychological conditions, as well.
MYTH: The things I'm doing in the bedroom are not BDSM!
BUSTED! BDSM can be defined as any kind of practice where power play is involved. In these scenarios someone is in control, and the other person is handing over their control, if even for a few minutes. If all you're doing is experimenting with a little spanking during sex, or being blindfolded with a silk scarf, that could be called BDSM. Not that you're being blindfolded and spanked … or are you?
MYTH: BDSM is all about pain.
BUSTED! Many people are into nothing more than role playing (generally referred to as D/s: domination and submission). This can be as mild as pretending to be the "secretary" while your partner is the "boss" or keeping a diary of daily activities and thoughts that you share on command, or as extreme as being ordered to scrub the kitchen floor with a toothbrush or not leaving the house without permission. Others want only to be tied up with no pain or sensation play at all. It's the psychology and the power dynamic that makes it BDSM, not pain. Whips and chains are fun (you may have to just trust me on this) but not necessary.
MYTH: All dominant people are male.
BUSTED! There are as many dominant women as there are men, and not all of them are leather-clad dominatrix you pay by the hour. The dominant role can be beautifully empowering for women. Male dominants are more prevalent in romantic fiction, which I believe is largely because many women see a submissive male as weak and anti-heroic.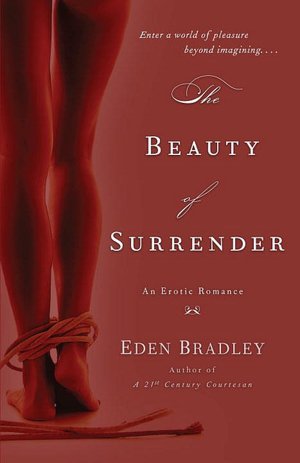 MYTH: A submissive is weak and has poor self-esteem.
BUSTED! Submission takes a certain amount of bravery and doesn't necessarily signify weakness at all. Handing over your power to another person requires inner strength, knowledge of self, and a willingness to face emotional obstacles. When you get into pain play, it takes stamina to endure the physicality of the play. It can be a challenge to write a strong submissive in erotic fiction, but it can certainly be done. (To learn more, see my novel The Beauty of Surrender).
MYTH: All dominant men are bossy jerks with a whip in their hand.
BUSTED! The reality is that a good dominant — male or female — should be caring, not disrespectful or abusive. They are responsible for the physical, mental and emotional well-being of their submissive partner. Those who play by the Safe, Sane and Consensual credo (find more information here) also go through negotiations before they begin any BDSM interaction, so nothing happens unless it's agreed upon in advance. A dominant's job is to fulfill the submissive's needs — that's what brings the dominant pleasure. Well, now and then there may be a whip involved …
MYTH: Everyone involved in BDSM is promiscuous.
BUSTED! BDSM requires an enormous amount of trust between partners, and the extremity of some of these practices engenders intense intimacy and incredibly strong bonds (and I'm not just talking about ropes!). Committed, lasting relationships are quite common, perhaps even more so than in the dating world in general. Of course, some people involved in BDSM will be promiscuous, but that's true anywhere.
MYTH: BDSM is all about sex.
BUSTED! BDSM is really all about psychology. There are many reasons why people seek out the dynamics in this kind of power play, as well as the more extreme physical sensations, and many people engage in BDSM play where no sex is involved. "Sensual" (stimulation of one or more of the five senses) does not always equal "sexual." Either way, the important thing in BDSM is the way people respond to the roles, and what those things mean to them. But when there is sex, things can get very hot!
MYTH: BDSM is emotionally unhealthy.
BUSTED! Like anything else, it can be if someone goes into it with the wrong motivation. But for many, BDSM can be a way to work through unresolved issues, an act of reclaiming their sense of personal power (that happens even for those on the bottom end of the spectrum). For others, it's simply good, clean fun!
MYTH: My definition of BDSM is right and yours is wrong.
BUSTED! BDSM is a very personal experience and encompasses a wide variety of needs, desires and practices. What works for one may not work for another, although I am a strong advocate of the Safe, Sane and Consensual credo many people play by. It's up to the individual to define their desires, how they want to go about it, and what they want to call it. Everyone has their own comfort zone, which is why pre-play negotiations are so important. I always say, "Some people like chocolate chip cookies, some people prefer oatmeal raisin." Personally, I'll always take the chocolate.
This post is an oversimplification of a very complex issue. For more information, please see my two-part interview on BDSM on the Booklovers, Inc blog (Posted on March 1st and March 15th, 2012). Meanwhile, I hope this brief article has helped to give you a more realistic perspective, making BDSM a little more approachable, whether in fiction or in real life.
- Eden Bradley 
You can download Eden Bradley's The Dark Garden, available now. And for more tales of BDSM or other steamy stories, check out our Everything Erotica Page!