Author Jade Lee Turns 50 At The 2013 RT Booklovers Convention
Fri, 04/26/2013 - 11:32am — admin
Author Jade Lee (aka Kathy Lyons) has been part of the RT family for many years. A two-time Reviewers' Choice Award winner, Jade constantly amazes us with her unique stories and unforgettable characters. A staple at the RT Booklovers Convention, Jade is always available to help aspiring authors hone their craft and offer support and encouragement to her fellow writers. When we learned that Jade was turning 50, we knew we had to celebrate her life and career. So this year, we are holding our very first author roast featuring Jade. All RT Convention attendees are welcome at the event which will take place during FAN-tastic Day on Saturday, May 4 at 5:00 p.m. Want a taste of what's to come? Read on for a message from the birthday girl. 
I was asked to write a blog giving perspective on turning 50 at the RT Convention this May. My first thought: they want to hear about my second ass (growing mid-thigh), random body pains, and hair that appears in new and bizarre places? Do they want to know about my overnight at the hospital for a heart attack that turned out to be gas? Or how about the second set of bags under my eyes. When did I get saggy? And will I ever be able to wear sexy sandals again without feeling like my feet are on fire? On the upside, I can still play racquetball, even though I look ridiculous.
The truth is I want to be 50, but with my 25-year-old body. But if I'm going to turn 50, then I might as well do it in style right? And since it's going to be at RT, I decided to have a roast.  Yes, Jade Lee's 50th Birthday Party Roast (Location: Ballroom Level, Atlanta B).
Once the news got out, you can't imagine the number of people who volunteered to roast me. I narrowed the list down to my four best friends and let me tell you right now: NOTHING THEY SAY IS TRUE! It's all lies. Remember, they write fiction. Of course, what I say in their intros will be absolute truth. Here's the list and what they insisted on saying before the event.
Cindy Dees: After thirty-three years of knowing her, I get to spill the DIRT on Jade Lee! And truth is juicier than fiction.
Elizabeth Hoyt: I've waited years and years (and years) to get a word in edgewise to tell Jade and the world exactly what I think of her.
Kim Killion: I can't wait to tell you all what a spectacular writer and friend Jade Lee is…[sudden distraction enters room] Jade! Jade!! I'm talking about you! Uugh! [The male model in the back of the room removes his shirt] Jade will be back with us shortly as soon as her "Manchest ADD" turns off.
(Damon Suede's comment has been accidentally deleted, but let me emphasize that anything he says about Mexico or ranch dressing is total fiction.)
The God's honest truth is that I'm in a career where I don't have to be young or beautiful. (Did you hear my sigh of relief?) In fact, my struggles with those two concepts have played out in various places in my novels. Characters who are easily beautiful bore me. And if they don't struggle with frailty of one kind or another, then they're not human. Still doesn't keep me from wanting to be beautiful or have a body that doesn't fart at strange times. (Oh wait, that's always plagued me...)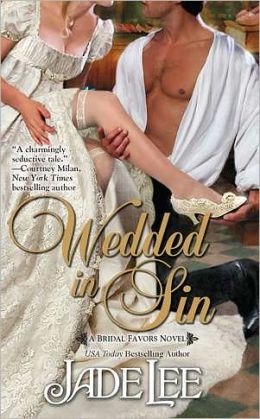 And even better, this year is turning out to be the best in my life. My family is healthy, my career is going great guns (Wedded in Sin is up for a RITA as Best Historical of 2013), and I'm generally healthy, happy, and wise-ish. Or is that wise-ass? Either way, life is good. So as I prepare for RT 2013, I'm getting really excited about sharing my birthday with everyone. I've got a ton of swag to give out, a great book new book to promote (watch for a blog soon about my new Kathy Lyons book Dream Nights with the CEO), and good friends to celebrate with. What could go wrong? Oh wait ... I forgot. Damon is speaking. Oy!
- Jade Lee
Want to celebrate with Jade? Her Birthday Party Roast will take place Saturday, May 4 from 5:00 - 6:00 p.m. at the RT Booklovers Convention in Kansas City. Hope to see you there! For more romance author news visit our Everything Romance Page.