Author Kathleen Harrington Returns To Historical Romance
Wed, 05/08/2013 - 12:22pm — admin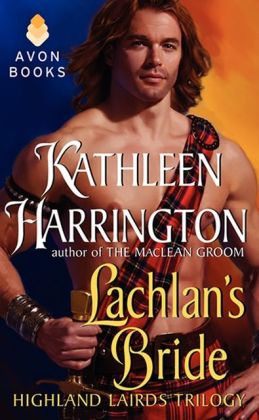 At this year's 30th annual RT Booklovers Convention, we honored pioneer romance authors — those writers whose careers contributed to the popularity of the genre. And that got us thinking about other pioneers in the industry. One such lady is Kathleen Harrington, an award winning historical romance author who has recently returned to the romance fold. After almost a decade, Kathleen has released Lachlan's Bride, the second in her Highland Lairds Trilogy. Today the author visits the RT site to tell readers about her hiatus and why she is so excited to be back!
What a thrill to have my latest book, Lachlan's Bride, released as an Avon Impulse on April 30th. I just received the first copy in the mail yesterday and the excitement of seeing my story in print gave me goose bumps! For quite some time I never thought I was going to see that day.
I always intended to complete my Highland Lairds Trilogy, but, as you and I know, sometimes life gets in the way. After the publication of The MacLean Groom, the first book in the series, I discovered, for deeply personal reasons, that I needed to return to teaching full-time. I found myself in a first-grade classroom once again.
I've always loved teaching little children how to read. As a young adult just out of college, I used to say that I took to teaching like a duck to water. And I have a deep belief that we are here on this earth for a purpose. During those nine years, I was content in the surety that I was where I was supposed to be, doing what I was meant to do.
But also during those years, I would periodically talk to my agent, Robin Rue, at Writers' House. She'd always mention that Erika Tsang, my editor at Avon, would ask if I was still writing. Robin and Erika's steadfast belief in my ability to write memorable stories convinced me that, after retiring from teaching, I could pick up the pen once again. Or tap on the keyboard. You know what I mean.
When I opened up my computer files, I found the entire plot for the second book stored safely away. Of course, there were changes to be made. We never look at things in the same way, and we're always trying to improve. But the inspiration was there. I told myself that writing a story was like riding a bike. You never forget how. And that much proved to be true!
But lots of things had changed. Drastically!
In this morning's Sunday Comics, a freedom fighter called Sorkh Razil in Garry Trudeau's Doonesbury, was facing the same challenge I discovered when I rejoined the writing community. Razil found that it isn't enough to fight crime by night. By day, he must update his Facebook page. And tweet. And blog. And network on Linkedin. And blast emails until he falls asleep.
I had to laugh when I read that comic strip.
I've been busy learning how to use social media. My website is up and running and I've learned how to blog. My Facebook author page is ready for my daily status. When it prods me with the question, "What's happening, Kathleen?" I feel like I have to answer it! My computer tutor, Mindy, is helping me complete my author site on Amazon, Goodreads, and Linkedin. When I started using Twitter, I was amazed at how many people were constantly tweeting about Romantic Times, until I realized RT stood for Re-Tweet!
Yes, indeed. I had a lot to learn. But it's been fun.
The love story in Lachlan's Bride is woven around the historic journey from England to Scotland of Princess Margaret Tudor, the bride of James IV. Lachlan MacRath has been chosen by Henry VII to guard and protect Lady Francine Walsingham on the way to Edinburgh. Francine has already heard the rumors about the Scottish laird and privateer. He is known to the English sailors as the Sorcerer of the Seas. And Francine has reason to believe Laird MacRath really is a sorcerer.  
Thank you for inviting me to share my thoughts with your readers.
- Kathleen Harrington
Kathleen Harrington would love to hear from readers. Visit her on Facebook and Twitter to let her know what you think of Lachlan's Bride, available now. And for more historical love stories, check out our Everything Romance Page.