Author L. Marie Adeline Shares Her S.E.C.R.E.T. - With Giveaway!
Tue, 02/05/2013 - 10:49am — admin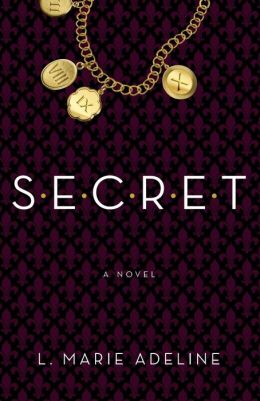 Author L. Marie Adeline's debut erotic fiction S.E.C.R.E.T. hits shelves today, and anyone looking for a steamy contemporary tale won't want to miss it! About a 30-something widow looking to reawaken her sexual desires with the help of an undergound club, women are the stars of S.E.C.R.E.T., and readers will be treated to a touching story about a woman discovering her wants and needs after a tremendous loss. We asked the author a few questions about her new story, and give readers a chance to win a copy at the end of this post!
***
Most erotic fiction follows the conventional rules of romance, but you decided to go a different route. What made you want to tell this type of story?
In the erotica I read as a teenager, a man would seduce a woman, she'd resist, he'd pursue, she'd resist a bit more until finally left with no choice she'd give in, wherein he'd suddenly recede, forcing her to uncharacteristically pursue. Add lots of sex, and lather, rinse, repeat. Those were fun books and I loved them. And certainly the dynamic of ingenue/billionaire can be ridiculously compelling. But Fifty Shades of Grey covered that ground so well, I really wanted to try something new. I wanted to tell the story of a woman who is sexually liberated on her own terms, rather than through someone else's desires. In S.E.C.R.E.T. women run the show, women design the sexual fantasies, and recruit the right men, and women encourage each other to go through with them. Cassie Robichaud, who's chosen to experience all of her sexual fantasies, is our "every woman", with all the feelings, fears and frustrations many modern women possess. Her sexual evolution was so much fun to write. I hope readers are compelled as I was to go on that journey with her.
New Orleans was the perfect setting for a mysterious, secret society, and Cassie's story paralleled the aftermath of Hurricane Katrina beautifully. What motivated you to set this tale in New Orleans?
My love affair with New Orleans goes back to the 90's when I dated a boy from Baton Rouge. We went down for the jazz festival one year and the city just left an indelible impression on me. It's always had this seductive vibe—the food, the music, the very "Frenchness" of it all—and so I couldn't think of a better setting for S.E.C.R.E.T. I re-visited the city a few times to research and write, and despite the devastating hurricanes of the past few years, the city still has that powerful magnetic atmosphere I remember. I hope S.E.C.R.E.T. will bring some of the lightness and sexiness back to New Orleans. No city deserves that more.
Will there be any more stories about S.E.C.R.E.T.? What can we expect next from you?
Yes! I'm currently at work on S.E.C.R.E.T. II, which will explore the inner workings of the society—and now Cassie's role as a newly initiated member-at-large. She'll help recruit a new S.E.C.R.E.T. candidate who goes through her own sexual transformation, and she'll find (and test!) a few good men to take part in the fantasies. And of course there's always drama at the Cafe Rose. I don't want to give too much away, but it will be fun and empowering — and there'll be more great sex, of course!
GIVEAWAY ALERT: RT is offering 2 readers the chance to win a copy of S.E.C.R.E.T. To enter, leave a comment on this post telling us what "secret" club you would like to join. You can also e-mail your answer here with the subject "S.E.C.R.E.T. Giveaway," along with your address. U.S. addresses only, please. Winners will be announced February 12.
BLOG UPDATE: The winners are Emily Schmith and Anonymous.
You can pick up a copy of S.E.C.R.E.T. today! For more sizzling reads visit our Everything Erotica Page.