Author Lauren Jameson Interviews Author Beth Kery
Tue, 01/15/2013 - 12:04pm — admin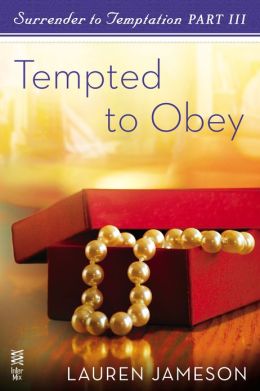 Once the norm, serialized novels — books released in installments — fell out of favor. However, in 2012 serials started to gain in popularity, especially in the erotic romance genre. Today two authors with hot, hot, hot serials discuss what it is like to offer their work to readers in increments. Warning: Discussion of BDSM billionaires ahead!
Lauren Jameson: As a writer, I draw a lot of inspiration from the stories of others. One of my all time favorites is my fellow Penguin author, the fabulous Beth Kery, who wrote the incomparable New York Times best selling serial Because You Are Mine. I'm smack in the middle of the release of my own serialized novel, Surrender to Temptation, and had a bunch of questions for Beth. She was kind enough to let me pick her brain.
A lot of the popular erotic stories out today have an obsessional, almost Gothic tone to them — the first one to come to mind is, of course, Sylvia's Day's Bared to You. As I was reading Because You Are Mine, your serialized novel, this darkness was definitely present in my mind. Was this intentional on your part? I know it was something I was striving towards when I wrote Surrender to Temptation.
Beth Kery: I wouldn't say I intentionally wrote it to have a Gothic feel. It came naturally given the characters. In the case of Because You Are Mine, Ian's stark intensity and determined aloneness definitely set the stage. For me, the characters set the tone for the book, sort of their inner world becoming the outer setting. I remember thinking it was funny after one of my books, Addicted to You, was published that some people wrote and said that it was both lighter and more humorous than many of my books, and some said just the opposite; that it was dark and edgy. That difference of opinion came directly from both characters. Katie is an impetuous breath of fresh air, and Rill is the tortured hero. Because you are digging into the character's inner world as an author, the feel of the book comes from that, in my opinion.
LJ: For me, writing a serialized novel was very refreshing. It was also an excellent exercise in pacing, making sure that each installment was a story in itself and part of the whole. What did you enjoy about writing Because You Are Mine?
BK: I really enjoyed it as well, and found the immediacy very refreshing. Most people don't realize that by the time a book is published, it's been written for around a year, maybe more. The author has moved on and is working on maybe not one, but two projects down the pipeline. With Because You Are Mine, the first installment was coming out at the same time I was finishing up the last installment. In addition, I was either working or doing edits in the first, middle and last parts all at once, which gave me a really cool feeling for the book. I compare it to moviemaking, where they are shooting scenes all out of order but have to constantly keep the whole as a guide. It was a very dynamic, non-linear process, and for whatever reason, I found myself 'owning' it more. It felt like a more subjective than objective experience, like I was truly in the midst of it.
LJ: What do you think it is about the combination of alpha males, billionaires and BDSM that is so appealing to the reader today?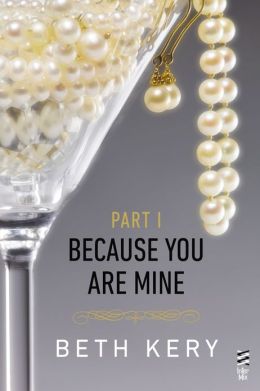 BK: It's a fantasy. When it comes to billionaires, knights in shining armor, princes — they've been the stuff of romantic and sexual fantasies for as long as there's been romance. I've been known to say that Because You Are Mine, for instance, is really just a very sexy Harlequin Presents type story. The BDSM (or D/s) issue is a bit more complicated and I think more related to modern cultural movements and women's state of mind. I realize a lot of people would say it's a backward step for women to be interested in submission or bondage, but I disagree. And always keep in mind that when I speak of this, I'm not talking necessarily about women wanting to be submissive or restrained in real life — although that would certainly one aspect of the experience on the spectrum. In general, I'm talking about what goes on in 1) the privacy of their mind and fantasies and/or 2) the privacy of the bedroom or other chosen sexual arena. I think it's great that women are feeling more freedom in their fantasies and in sexual practices. It's not a matter of it being right or wrong, but more just the idea that women can play a little without feeling guilty and really discover what works for them without cultural guilt.
LJ:  Erotic romance is, hands down, my favorite genre to read. I'm a big fan of all the usual suspects — Megan Hart, Maya Banks, Cherise Sinclair, Sara Fawkes and, of course, yourself. Who are some of your favorites?
BK: Thanks! Just off the top of my head—and I'm probably leaving out several—Shiloh Walker, Shayla Black, Sylvia Day, Jaci Burton, Megan Hart and Emma Holly. I also look forward to checking out your books.
Lauren Jameson: Aaannndd just for fun, who would your dream cast be for Because You Are Mine? Of course, I had to think about this one myself, too. There's a model names Jake Davies who would fit my Zach to a T, and Sarah Jones from the short lived Alcatraz would be a perfect Devon. Who do you envision playing Ian and Francesca?
Beth Kery: Awesome. You're all ready for your casting role! For Francesca, I sincerely come up blank. I have a very clear image of her in my mind's eye, but never seen anyone who matches her looks or spirit. Recently on my Facebook page, a reader sent this image for Ian, and I was like…oh, I could definitely see him playing the part. [LJ Note: we couldn't include the picture, but the model's name is David Gandy.] I sort of fixate on odd things, and this guy's hands are very, very sexy. Not that the rest of the package isn't awesome. However, being clueless about Hollywood and entertainment, I don't know his name! The one that she picked for Ian is on the top left (and then it goes her choices for Everett, Vic and Chance, for people interested who have read some of my other books). She did a great job—thanks Angelina. Since Lucien is my next hero, I'll say he's sort of a Lenny Kravitz with more defined features and a panther-like, super sexy sense of barely contained savage grace.
Lauren Jameson: Beth, thank you so much for taking the time to answer my questions about writing the serialized novel. I can't wait to read your next one, When I'm With You. As for me, Surrender to Temptation Part III: Tempted to Obey is out January 15. I hope you'll enjoy it!
For more genre news and coverage, visit our Everything Erotica Page!