Author Meredith Duran Shares Her First Historical Romances
Wed, 02/13/2013 - 1:09pm — admin
This month author Meredith Duran published her seventh historical romance, the Top Pick! rated That Scandalous Summer. In her review, RT's Kathe Robin compares Duran's latest work to a classic Mary Balogh tale. As a younger generation writer, Duran draws inspiration from some of the pioneers of romance, whose timeless love stories influence Duran's own writing. Today the author shares the first historical romances she ever read, and how they left a lasting impression on her and her work. 
1994 was the year I discovered historical romance — and what a very, very good year it was for readers. One of my first discoveries (and these did feel like genuine discoveries — my attitude, as I ransacked the shelves of B. Dalton, hovered between gleeful and triumphant) was Mary Jo Putney's Fallen Angels series. Thunder and Roses made me an instant fan of Nicholas and Clare, of penguins (ahem), of Wales, and, most of all, of Mary Jo Putney. I learned for the first time what it meant to have an auto-buy author, one whose next release date is as well-known to you as your own birthday. The depth of her characterization, the vividness of her settings, and the chemistry between her characters made her a role model for me as a writer — while, nineteen years later, she remains an auto-buy for me as a reader.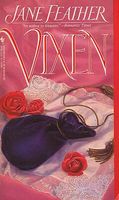 On my bookshelf also sit battered copies of Vixen and Virtue that I purchased that year. Jane Feather's books have always felt epic to me — sweeping in scope, both temporally and geographically. They're also richly grounded in the history of the period. (She wrote a trilogy set during the English Civil War! As I read these, my delighted gratification knew no bounds.) Above all, though, it's her heroines that fascinate me. There's a strength to them that borders on steely, a dignity and self-possession that never waver. They're sometimes thorny, often imperfect, and always tremendously interesting. They inspired me, when I began writing, to make sure no one would ever call my heroines too perfect to be real.
The final author I discovered in 1994, whom I also continue to read to this day, would be none other than Mary Balogh. At my local library, I found a copy of The Secret Pearl — and Fleur, the heroine, was a far cry from the bold, optimistic young women I'd admired in other historicals. Fleur's predicament seemed heartrending (and powerfully adult, and therefore irresistibly mysterious to my teenaged self). I cried as I read this romance: a first for me, and an addictive one. There was also a rhythm to Balogh's language, a beauty to it, that spoke to me as a fledgling writer. The restrained elegance of her prose was an education in itself. It was while reading The Secret Pearl that I first started cooking up ideas for writing my own historical romances. Let me give thanks, now, that you'll never see what my first attempts looked like — and thanks also to Ms. Balogh, for the inspiration that, unbeknownst to me at the time, would one day culminate in the publication of my own historical romances.
As I said, 1994: it was a very good year.
- Meredith Duran
What was your first historical romance? Let us know in the comments. You can get your copy of That Scandalous Summer, available in stores now. For more historical romance, visit our Everything Romance Page.