Author Q&A and Giveaway: Ally Carter On the End of the Gallagher Girls Series
Tue, 09/17/2013 - 12:54pm — admin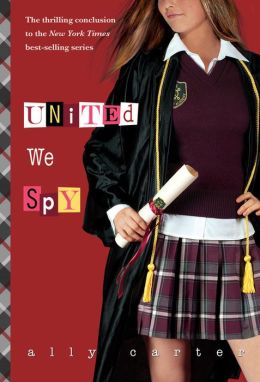 Since 2007, Ally Carter has enthralled us with her fun, action-packed Gallagher Girls series, and we've been wishing we got to attend the Gallagher Academy ever since. Cammie and the girls have enthralled and entertained us for six books, so it's bittersweet that today the series draws to a close with with the final book, United We Spy. We thought we'd chat with Ally about United We Spy, her thoughts on her career so far and how the YA scene has changed since the series began. We're also giving away an entire set of the Gallagher Girls series, as well as some extra goodies. Contest details are at the end of the post.
***
This is the last book in the series. Did you find it hard to write knowing it was the last?
It was definitely a different experience. On one hand, I no longer had to worry about where the series was going to go in the future. But on the other, I knew this was my last shot. So anything I ever wanted to happen in a Gallagher Girls book … it was now or never. That's not even considering the emotional aspect of the story. I really tried not to think about it being the last Gallagher Girls book. I just tried to make it the best Gallagher Girls book.
How have you grown as a writer since book one?
I hope I've grown! At least, I think most every writer has the goal of getting better with every book. For me, that has probably been a function of writing more and more complicated plots. If you are going to top yourself that means, eventually, that things are going to get pretty big and pretty crazy. Luckily, big and crazy are right up my alley.
Readers are anxious to read the book. What can they expect to see?
It's been a pretty long road for the Gallagher Girls, and when book five ended, the characters had something of a to-do list. There are a number of things (or really … people) who have to be captured before the Gallagher Girls can be truly safe, so in its purest sense, this book is just that list. Of course, there are A LOT of surprises along the way.There is a lot of friendship, a lot of romance and a lot of close calls as the Gallagher Girls finish out their senior year. You'll have to read the book to find out who won't live to see graduation.
How have your characters grown over the course of the series?
In so many ways, my characters and I have grown up together. In the beginning what they wanted was fairly straightforward and sweet. By the end, they had to stop terror attacks and prevent assassinations. With every book I tried to push myself, and that means pushing them. They are stronger, smarter and gustier than anyone probably ever guessed in the beginning. I'm incredibly proud of the young women they turned out to be (even if they are fictional).
What is your favorite scene from the book?
I love the graduation scene. I don't want to give too much away, but in so many ways that is the moment they have all been waiting for. Their lives will go on. They will still be spies. They will still have missions and loves and close calls and heartache, but this was always a series about a group of girls at spy school. There was something incredibly satisfying about writing the moment where school was officially over.
The Gallagher Girls series marked your entrance into the YA world. How has your life changed since then?
My life has changed so much since 2005 (when I sold I'd Tell You I Love You But Then I'd Have to Kill You and an untitled sequel). For starters, I've been fortunate enough to quit my day job, and I now write full time. I was able to move to be closer to my family. And over the course of many years of conferences and book festivals, I've actually managed to make some tremendous writer friends. It's hard to believe that when I started in this business I knew no one. But now my very best friends are writers too. I'm incredibly blessed.
And how has the YA scene changed?
It seems like we have had three or four different YAs since 2005.  At first, teen chick lit was the big thing. There were a lot of pink books on the tables at Barnes & Noble and Borders. Oh, and we had Borders …
Then came Twilight and the paranormal boom, followed by the great dystopian invasion. For a while, it was an industry driven largely by the trend. It seems like maybe we've gone away from that a little bit now. But maybe not. I just know how incredibly lucky I am to still be publishing a series that, for so long, had to swim against the genre current.
What do you hope readers take away from the book and series?
I've had the pleasure of hearing from a lot of readers through the years. Probably thousands of them. And my favorite thing to hear is probably that the books have made them love reading. I was always a reluctant reader — to this day I am far more likely to put a book down than to finish it. But when I find a book that I love I want to re-read it a dozen times. I feel really blessed that these books have had that effect on a lot of readers.
I hope the books make them feel powerful and smart and loyal and loved. I want everyone who reads the Gallagher Girls series to feel like the Gallagher Academy is real and that they got to spend some time there. I want them to be a part of that sisterhood. I want them … I guess … to feel like a spy.
***
Giveaway time! One lucky winner will win a complete set of the Gallagher Girls series as well as an exclusive Gallagher Girls notebook and hairbrush! To enter, tell us which fictional spy is your favorite and why. The contest ends next Tuesday, so get your entries in quick! Open to U.S. residents only. For more YA visit our Everything Young Adult page.
UPDATE: The winner is Aimee Hyndman