Author Q&A: James Dashner Talks The Eye of Minds and Maze Runner Film
Tue, 10/08/2013 - 11:01am — admin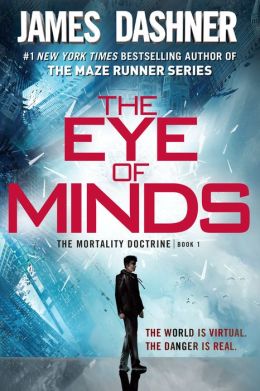 James Dashner took the young adult world by storm with his super awesome series, The Maze Runner. Now he's ready to enthrall readers once more with The Eye of Minds, the first in a new thrilling and high-stakes series that illustrates the power and dangers of technology —particularly virtual reality. Today we have an exclusive interview with James where he discusses the new book, his hopes for the series and what longtime fans can expect from the film adaptation of The Maze Runner!
***
The Eye of Minds marks the beginning of a new series, The Mortality Doctrine. How did you approach planning this new world and set of characters? Has your process changed over the years?

It was bittersweet to leave The Maze Runner behind, but I was really excited to embark on a new adventure. I wanted it to feel different, but still appeal to all those readers who enjoyed my latest books. Heavily inspired by The Matrix and Inception (two of the best movies of all time, even better than the recent One Direction flick!), I started developing a basic idea that had been in my head for a long time. I would say that my process has changed a little over the years, because I feel like I did a lot more preplanning and outlining for this series. Part of that is because I knew it had to be crafted well to pay off at the end.
How is The Eye of Minds different from your Maze Runner series? How is it similar?
It's different in so many ways. It's in the future, but it's not a dystopian or post-apocalyptic tale or anything like that. It's heavy on technology, especially with electronics and virtual reality. But there are also similarities in tone and feel and spirit to The Maze Runner. It's a dark story with (hopefully) some relentless suspense and constant twists.
How would you describe the protagonist, Michael?
Michael is a little more cocky and self-assured than Thomas of The Maze Runner. But Michael is also a little scared on the inside, and his fears and doubts as things heat up will hopefully make him someone with whom the reader can identify. (I'm pretty sure that last part is correct grammar because it sounds really smart.)
What is your favorite aspect of the new book?

I love the endless possibilities of this world. Anything can literally happen in a virtual world, and I'm not using literally in the sense some people do. Like, my head literally just exploded. It's a vast canvas on which to write a story.
What do you hope your readers enjoy most about it?
I hope my readers love the sense of uncertainty, never knowing what to expect. When you can duplicate the real world to perfection, how can you ever know, without a single doubt, what's real and what's not ever again? That concept fascinates me. Kind of like the dream within a dream within a dream from Inception.
Many fans want to know more about the upcoming film adaptation of The Maze Runner. What can you share with us about the film? Is there a scene you were particularly excited to see come to life?
I try to keep mum on any details regarding the movie, because inevitably I'll spill something I wasn't supposed to and get reprimanded by a hundred people. I fully trust 20th Century Fox to reveal things in the correct order. But I can tell you this: it's going to be spectacular. I've seen footage, I visited the set twice, I gave feedback on the script and it's all very true to the book. My readers are going to love it. I think the thing I'm most excited about is seeing the Grievers come to life on the big screen, in all their terrifying glory.
***
The Eye of Minds hits shelves today, so be sure to visit your favorite bookstore or online retailer! And for more young adult authors and books, visit our Everything Young Adult Page!