Author Q&A: Julie Ann Walker On Her Black Knights - With Giveaway!
Wed, 04/03/2013 - 10:55am — admin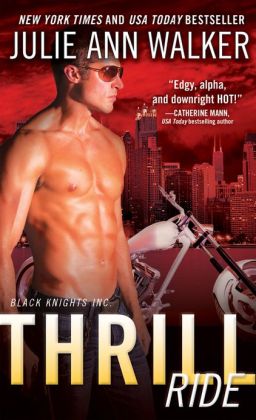 If there's one thing romantic suspense author Julie Ann Walker knows about, it's the allure of a sexy biker! After all, her Black Knights, Inc. series is full of them. But her heroes aren't just bikes, they're part of a covert special-ops organization. The hero in her newest novel, Thrill Ride, features ex-Navy SEAL
Rock Babineaux who's on the run after an assignment goes wrong. The Black Knights aren't sure if they can trust Rock, but his fiery former partner Vanessa Cordera knows he's innocent. Today the author tells us more about her latest hero and and heroine, and shares what it's like writing about biker culture. Plus, enter to win a copy of Thrill Ride at the end of this post!
***
You debuted last year to rave reviews with the Black Knights, Inc. series starter Hell on Wheels. This month's release, Thrill Ride, will be your fourth book. What has changed for you since becoming a published author? 
Ha! The size of my thighs? No, seriously. All those hours sitting in front of a PC really do add up. And believe me I'm thinking a treadmill desk is in my very near future. ;-) But you were asking professionally, right? Professionally how have things changed for me? Well, I'd have to say I'm slightly — only ever-so-slightly, mind you — more confident that I can actually write a story from beginning to end. You know, actually finish a book. Of course, you'd never guess this if you saw me at certain key moments during the penning of said books. Those moments when a dissenting inner voice yells, "This is it! You've hit the wall. You're never going to complete this novel. And even if you do, it's going to be a huge failure!" But that voice is a little softer now, a little less vociferous than it was in the beginning. Not that I think it will ever go away entirely. Nor would I want it to. That fear, that insecurity keeps me honest. It keeps me humble. And, more importantly, it keeps me striving to be better, to write better. But … I do trust myself a little more with each book. I trust that my imagination won't fail me. I trust that if I "apply the seat of my pants to the seat of the chair," as Mary Heaton Vorse would say, then the story will materialize.
Your Black Knights, Inc. books each have thrilling, dangerous plots. What makes you gravitate to the romantic suspense genre? 
Oh, now that's easy. When it comes to entertainment, I like my emotions to run the gamut. I want to know both sorrow and happiness, experience fear and triumph. When I watch movies or read books or go to plays, I don't feel as if I've gotten my money's worth unless I've laughed, cried, nearly chewed my nails down to stubs, and shot a victorious fist in the air. I don't want much; I just want it all. LOL! And there's no other genre that allows me the freedom to write it all like romantic suspense does. Simply put, I try — key word being try — to write the stories I'd like to read.
Men on motorcycles — possibly the sexiest pairing in romance. What experience do you have in the biker lifestyle you write about?
Oy, I always hate when I'm asked this question. Because the truth is, I'm simultaneously fascinated with and terrified by motorcycles. I think they're beautiful, especially custom choppers which, in my humble opinion, are works of art. All that chrome. All that glittering paint. Then when you add the throaty, powerful rumble of a V-twin engine with the accompanying call of the open road, what you get is a certain mystique, a certain … je ne sais quoi. It's intangible, yet visceral. On the other hand, I'm scared to death to actually ride a motorcycle. For one thing, they're huge. For another thing … where's the seatbelt? I'm at the age where the fragility and tenuousness of life is too readily apparent. Then how can I possibly write about the biker lifestyle considering I don't actually, like, live it? Well, thankfully, there's a ton of information available to the savvy researcher. Also, I've made some great friends within the custom bike-building community who are always happy to answer any questions I have. Did you know the bikes featured on the covers of my books are actual custom jobs? I realize it's hard to see past the handsome hunks, but tear your eyes away if you can and just look at the beauty of those motorcycles. HAWT!   
Thrill Ride, featuring the "Ragin' Cajun" Rock Babineaux, centers around him being accused of murder. While he is undoubtedly deadly, he also has an incredible sense of honor. Under what circumstances would Rock commit a crime?
Yeesh, that's a tough one. On many levels. First, the definition of "crime" is somewhat skewed when we're talking covert government operations. I mean, the Black Knights are basically spies, right? In the midst of a mission, they don't think twice about hot-wiring cars, or planting listening devices inside someone's home. Second, it's hard for me to imagine Rock knowingly perpetuating a crime in any setting other than a mission. And third, I can see many instances where he'd do what needed to be done, right or wrong, if it came to saving the lives of his fellow teammates. So, yeah, it's a tough question. And Rock is a tough, multi-layered character. Can I call an audible and just say, "I plead the fifth on this one?" 
Vanessa Cordero has worked with Rock for a while at Black Knights, Inc. yet she has carefully avoided any messy romantic entanglements. What has stopped her from exploring a relationship with Rock?
Bwahahaha! What has stopped Vanessa from exploring her relationship with Rock is … Rock. Previously, she had a general rule about not dating co-workers and a specific rule about not dating covert operators. But the moment she sees Rock, or — more precisely — hears his deep, Southern drawl, all her good intentions fly right out the window. She's wanted him since day one, and she doesn't make any bones about it. But the double life Rock is leading forces him to hold her at bay. Of course, Vanessa being who she is, stubborn and feisty and altogether gutsy, she doesn't take 'no' for an answer. And, oh, it's fun to watch her work her wiles on him, even if I do say so myself. ;-)  
You began developing the romance between these characters in your last book Rev It Up. Were there any surprises for you, as a writer, when crafting Rock and Vanessa's story?
Surprises? Heck, yes! There are always surprises. My characters are notorious for going off the reservation — otherwise known as my story outline. But it's the tangents that are often the most fun for me to write. And, if my fan mail is anything to go by, they're often the most fun for fans to read, too. So, you know, I've learned to roll with it. As for Rock and Vanessa specifically, I didn't expect them to be so hot-to-trot for one another so quickly. The first major kiss between the two of them comes far earlier in the book than I'd planned, as did the first intimate encounter. These characters just couldn't seem to keep their hands off each other! ;-) I wasn't expecting that!
Which is the next couple you will be writing about? Will they be connected to the Black Knights?
Born Wild is due to hit shelves this coming November. It will be the fifth book in the Black Knights Inc. series, and it features Wild Bill Reichert and Eve Edens. Bill and Eve were introduced in book two, In Rides Trouble, and then we see them again in Thrill Ride. So their story has been a long time coming. I think readers are very eager to discover what the hot fuss is between them, and I hope I don't disappoint! (See, there's that dissenting inner voice coming out again… :-/)
***
GIVEAWAY ALERT: We're giving three readers a chance to win a copy of Thrill Ride. To enter, comment on this post telling us why you think biker dudes are hot! You can also e-mail your answer here with the subject "Julie Ann Walker Giveaway," plus your mailing address. U.S. addresses only please. Winners will be announced here on April 9.
You can pick up a copy of Thrill Ride, available in stores now. For more romantic suspense visit our Everything Romance Page.