Author Q&A: Katie McGarry Dares Us To
Wed, 07/03/2013 - 11:21am — admin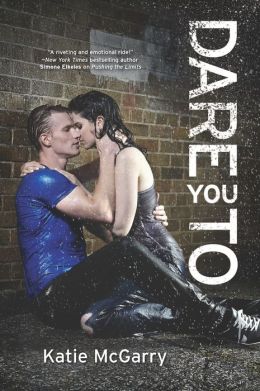 Katie McGarry's latest contemporary tale Dare You To not only delivers a heaping dose of drama, but takes us inside the very personal, emotional love story between a high school jock and a bad girl living in a Southern town. Both are recovering from past hardships, but can two seemingly complete opposites find comfort in each other? We asked the author about her new book, what it was like writing characters from two very different backgrounds and what we can expect next in the author's series.

***

Your debut, Pushing the Limits, is an unbelievably moving story of two very hurt teens helping each other heal from past traumas. How is your new release, Dare You To, tied into this world?
Dare You To follows the story of Beth, who is a secondary character from Pushing the Limits. Noah, one of the main characters from Pushing the Limits, often refers to Beth as his non-blood sister.
Your first novel has opposites attracting, and you do this again in Dare You To with the troubled new girl, Beth, and the popular jock Ryan dating. What makes these types of couples so intriguing to you?
On the outside, my husband and I were, and still are on some things, complete opposites. He was the baseball playing, football loving jock and I was the girl who listened to heavy metal and loathed anything that had a team attitude type of vibe.
But once we got to know one another, we learned that we were the same on all the levels that counted. I often think that if I had stuck with my first impression of my husband and had never tried to get to know him, I would have missed the opportunity to be in the best relationship in my life.
Beth is only 17, yet for years she has had to act like an adult taking care of her mother. It seems like a good thing that Beth's uncle would take her out this troubled home life, yet Beth doesn't want to leave. Why doesn't she like living at her uncle and aunt's house where she can live a more normal life?
Beth's lived her entire life on her own terms. She's never been given a set of rules and she considers this freedom, but Beth constantly talks about how she feels like she's covered in chains and is drowning.
Beth has also been the responsible person between her and her mother. The stress and worry of leaving her mother behind tears at Beth's soul.
While she thinks that living under her uncle's roof will be constricting, what will actually happen is that she will come to know freedom. What Beth doesn't understand is that she's actually imprisoned by the relationship she shares with her mother. It isn't until Beth is shown pure, unconditional love from others outside of her normal environment that she understands what freedom and love really mean.
Ryan is gorgeous, popular and likes to have fun. He enjoys taking on dares with his best friends. What are some of the crazy things he gets up to before the novel starts?
Ryan once wrapped a friend's car in bungee cords so the doors wouldn't open until it was unwrapped. :)
Ryan meets Beth when he attempts to get her phone number on one of those infamous dares. Not a perfect start to a love story! What made you decide to being their romance with a game?
Because up until meeting Beth, Ryan had defined his entire life by games. He saw life as black and white. Win or lose. Beth saw the entire world in shades of gray. The world to her was always blurred with no defined boundaries.
I liked watching what happened when two people with completely different views of the world met and fell in love.
When does it become clear to Ryan and Beth that the games are over and they become serious about each other?
The game finally ends the night in the barn. It is hot and intense, but the stories they share with each other tie them together emotionally.
Beth's rocky past and Ryan's bright future don't exactly match. Just how much is Ryan willing to lose in order to prove to Beth that he cares?
I don't want to give away too much, but I think the ending shows that Ryan was willing to give his life to protect Beth.
There are several secondary characters that have gotten readers' attention (... ahem ... Lacy ...). Are we going to be getting more stories featuring any of these characters?
Right now I'm focusing on finishing up revisions for Isaiah's story, Crash Into You, but I haven't ruled out continuing Lacy, Chris, or Logan's stories. 
You can pick up a copy of Dare You To, available in stores now. For more YA news and coverage, visit our Everything Young Adult Page.