Author Q&A: Keary Taylor and Her Cybernetic World
Wed, 07/10/2013 - 12:47pm — admin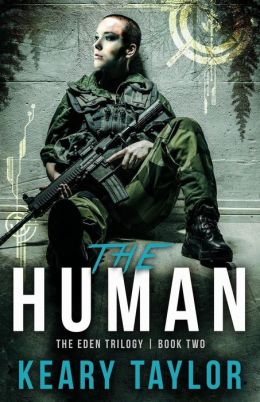 Last week, we shared some of our favorite self-published authors in our article on the rise of self-publishing. One of the authors we spotlighted was Keary Taylor, the inventive writer behind the Fall of Angels series and, most recently, the Eden Trilogy, a Young Adult dystopian series. Set in a world where a cybernetic technology has taken over the human race, the series started earlier this year with The Bane and continues with The Human. Taylor's journey to publication hasn't been easy, but it has most definitely been rewarding. Today, the author discusses her writing experiences, the inspiration behind her bestselling Eden Trilogy and provides insightful advice for writers looking to self-publish.
***
Can you describe how your experience in self-publishing has been so far? Have there been any particular challenges and what's the most important thing you've learned?
My journey to self-publishing has been a rocky one. When I first started writing and going after publication, I received over 140 rejection letters. It was tough, a blow to my confidence, and made me question if I should continue writing. But then I started hearing about self-publishing and I figured "what do I have to lose?" Things didn't happen right away, but I kept at it and it has absolutely paid off. In the beginning, everything was a challenge. I started self-publishing in 2010 and that was right when Amazon and Barnes & Noble started pushing it. I didn't know anyone else who had ever done it so I had no one to tell me how to do it. I made a lot of mistakes in the beginning. But one of the most important things I learned was to not give up and to take this seriously.  
You're currently in the midst of your Eden Trilogy. What inspired you to write this series?
I actually got the idea back in 2010. I had re-watched Star Wars III and there was this shot with Anakin and his new mechanical hand. And I thought, "How cool would it be if he had somehow grown that himself and it was a part of his DNA?" And then my overactive imagination wouldn't let the idea go!
Some readers may not know that the series started with a stand alone title, Eden, which was originally released in 2011. What inspired you to go back and expand the story?
Actually, it was mostly my fans. I got emails constantly from readers who wanted to know what happened after the ending. And they kept hounding me about it, which was great! And then when Mark Morgan (producer of the Twilight and Percy Jackson films) picked it up for a movie option, he and his team really wanted to see it turned into a trilogy. When two more books are demanded out of love, who am I to say no?
The Human, the second book in the trilogy recently came out. What's your favorite scene in the book?
Oh man, it's hard to talk about without spoiling the plot, but my favorite was when Eve makes this certain escape and she's on her way back home. I'll just say that the Bane were involved and the scene came as a total surprise to me. I hadn't planned it out, but it inspired the whole second half of the book when it manifested itself, and most of what will be book three, The Eve.
What do you hope readers take away from the series?
Accepting who we are is a challenge for anyone. The main character in the series goes through such a massive journey of self-discovery and acceptance but we see her striving for it. Whether we lead simple lives or do great, world-changing things, each of us is a unique individual and we need to learn to love who we are.
What is your advice for authors looking to self-publish?
Be prepared for hard work. Things are changing in the publishing world where readers are more accepting of self-published authors, but it is still a ton of work. Treat it seriously, treat your fans seriously, treat yourself seriously, and treat your writing seriously. Love what you do and do write for the right reasons.
Keary Taylor is definitely an author to watch and if you're looking for a mesmerizing dystopian series to devour, don't hesitate to pick up the Eden Trilogy! The Human, book two in the series, is out now, so be sure to get caught up before the last installment releases early next year! And for more genre coverage visit our Everything Young Adult Page.