Author Q&A: Kendra Elliot On her Latest Romantic Suspense, Buried
Tue, 04/16/2013 - 1:57pm — admin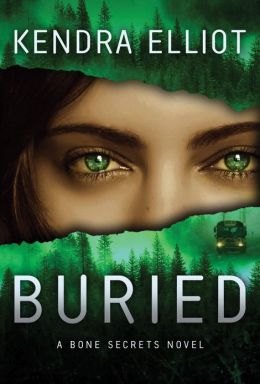 Kendra Elliot's third Bone Secrets novel, Buried, might be her best in the series yet! The story follows reporter Michael Brody as he tries to solve the 20-year-old case of a school bus of children that went missing — and included his brother. When he starts by reaching out to the sole survivor of the tragedy, who has now gone missing, he learns that the key to solving the mystery might be the survivor's sister, Jaime Jacobs. Both Jaime and Michael race to find their missing siblings, and what they discover is a ruthless serial killer. Nominated for our April Seal of Excellence, we had several burning questions for the author about this thrilling, sometimes terrifying, love story.
***
With no gratuitous violence, your newest release, Buried, is absolutely terrifying. It starts with the discovery of the remains of almost a dozen children, which leads to the investigation of a serial killer. Would you consider this type of intensity and darkness part of your writing style?
Absolutely. I love to write about emotional intensity. I think that's what really pulls in the reader and connects them to the characters. Dark things drive my interest and catch my curiosity, making me want to write about how the everyday person will react when forced to face extraordinary situations. As a reader, I want to live vicariously through the characters and experience something that hopefully won't happen to me in real life.
Jamie and Michael have something in common — both lost brothers to kidnapping. But while Jamie's brother was rescued, Michael's sibling was never returned. Does their similar experiences bring the couple closer together or make it more difficult for them to get to know each other?
I felt it would bring them closer, and I believed they'd have a strong bond because of it. But Michael had an element of resentment he had to overcome…which he handled quite quickly. I felt it was important to explore Michael's anger, and to give Jamie's point of view when she realized that Michael had viciously hated her family because they'd gotten their son back. It was also crucial for Michael to understand that Chris's survival wasn't all ponies and rainbows for Jamie and her parents. They struggled with their own nightmares.
Jamie is a bit of a neat freak — making sure everything in her life is in order, while Michael is a lot more laid back. However, when they meet, there is a 'click' and they seem to fit just right. Does this mean you believe that opposites attract?
I'm all about opposites attracting! I love to do this in my stories because it's often amusing to see the heroine's quirks from the hero's point of view and vice versa. I believe the getting-to-know you phase is much more entertaining when there is some head-butting going on.  My husband is a redneck computer programmer and horror fan. I'm a bit OCD and love to read big sweeping historical novels. We're so different in so many ways, it's surprising that it works, but it does in an amazing way.
Making sure there is enough 'romantic' with the 'suspense' can be difficult, however, this book has plenty of heat. While Michael is more than happy to take things slow and make sure their relationship has a solid foundation, Jamie makes the first move. Was the scene of their first intimate encounter (where Jamie puts on some sexy black underwear) as fun to write as it is to read? 
I struggled for a long to write that scene. Even now, it's making me sweat a bit to remember what I went through to get it right. In fact, I originally placed the scene behind a closed door, taking it off the page, because I was floundering to make it click. My first round of edits came back with a big "WHAT??????!!!!"  written in the notes from my editor. She pointed out that I was leaving the reader "unsatisfied." It was the final scene I wrote for the book. I put it off and stressed about it for months while I focused on the final half of the story. Ask my writing buddy, Melinda Leigh, how much I moaned about getting that scene to work.
We don't want to give anything away, but there is a few incredible surprises throughout the story. Things that make the reader question everything they thought they knew about the plot and characters. When you sit down to start a book, have you plotted the entire story out, or does your story surprise you as much as it does your readers? 
When I start, ideally I know the beginning and how I want the book to end. I typically plot about three chapters ahead. Usually I have a very short list of things I want to occur in the story, but how I get to them is often a surprise. That plot twist came to me within the first three chapters of the book, and I worried that it would appear contrived. But the more I thought about it, the more I loved it and was determined to make it work. I relied on my editor to let me know if it worked, because I had huge doubts. I don't use beta readers or critique partners; I have faith in my editor for feedback. It wasn't until after several reviews from the ARCs started filtering in, that I breathed a sigh of relief.
Buried is the third book in your Bone Secrets collection, is there another book coming? What can you tell us about it?
Yes, I just completed developmental edits for the fourth book. My main character is Dr. Victoria Peres, who was in Hidden and Buried as a secondary character. I didn't want to write about her, because she intimidates the hell out of me, but my fantastic editor gently prodded me, wanting to know WHY Victoria acts like she does. I fought it, starting the book with a different main character, but by the third chapter, she'd taken over the book and I went back and rewrote the beginning.
Montlake just offered me a contract for two more novels, so there will be at least six. 
You can pick up a copy of Buried, available in stores and online now. And for more thrilling romantic suspense tales, visit our Everything Romance Page.