Author Q&A: Lauren Kate Trades Angels for Teardrops
Wed, 10/23/2013 - 12:07pm — admin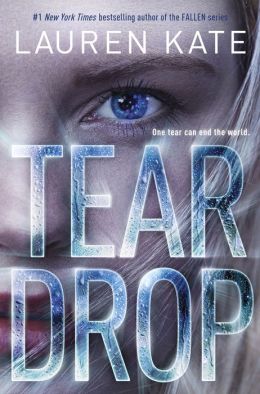 With her hit Fallen series under belt, Lauren Kate is ready to hook readers on a new series. The first in an all new trilogy, Teardrop brings ancient myths and dark magic together for yet another spellbinding and romantic tale. Today, Lauren answers our burning questions about the new book and series, and hints at what readers can expect in book two! 
***
What inspired you to write Teardrop?
Teardrop is built of a combination of myths. Plato's Atlantis (is it a myth?) features largely, as does Noah's Ark, Hero and Leander, Isis and Osiris and the Greek myth of a woman named Byblis' unrequited love — her broken-hearted tears turned her into a spring, which I found incredibly romantic.
I'd been thinking about how emotions create worlds, how we all inhabit the world of our emotions — be it sorrow, the ecstasy of new love or loneliness, to name a few. It made me want to write about a girl whose emotions physically created and destroyed worlds.
How did the writing process for this book differ from your process for the Fallen series? How was it similar?
The writing process is remarkably similar for every book I've ever written: I'm warily energetic about conceptualizing the plot, desperate and hopeless during much of the first draft and thrilled and invigorated by the revision process. My family always knows when I'm nearing the end of a first draft because I am consumed with doubt. It helps when they remind me: "You said that about the last book, and the one before that. What do you have, two chapters left?" And I'm always like, "How did you KNOW that!?"
What can your readers expect to see in the new book?
A close examination of destiny, dark magic, a saturating setting and love with cosmic consequences.
Who was your favorite character to write and why?
I most admire Eureka. She's strong but sensitive, self-assured but lonesome, and easily swept away by romance. I like to write about characters who know one another deeply — so Eureka is surrounded by her best girl friend Cat; Brooks, the boy-next door she's known her whole life; and a new guy, Ander, who's been tasked with watching her closely from the moment she was born. Each of them has a complete understanding of her — and each of those understandings is completely different.
How would you describe your heroine, Eureka, using only five words? How about Ander?
Eureka is imaginative, lost, faithful, strong and deep.
Ander is lonely, loving, sad, hopeful and brave.
What can you tell us about the sequel?
I just finished the second draft and I believe it's the most fascinating thing I've ever written. It has the darkest, most terrifying ending of all my books, complete with a shocking last move by Eureka. I can't wait to share more about it.
Alright, readers, Teardrop is on shelves and online now, so be sure to purchase your copy today so you can dive right into Eureka's dark and enchanting story! And for more YA authors, books and buzz, head on over to our Everything Young Adult Page!