Author Q&A: Maya Banks Gives Us Fever
Wed, 04/17/2013 - 10:10am — admin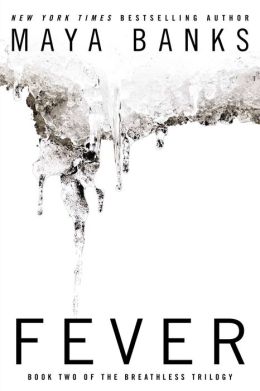 Maya Banks' second novel in her Breathless trilogy, Fever, hit shelves this month, and if you're curious about what RT reviewer Jacqui McGugins calls "a Cinderella story with extremely hard edges," you won't want to skip the intense erotic romance. Business partners and longtime friends Jace and Ash have shared everything — even their women. But when they meet Bethany, Jace decides he wants her all to himself. Today we ask the author about her complex characters, writing steamy sex scenes and what readers can expect next.
***
When we first meet Bethany she is homeless while Jace is wealthy and privileged. Initially their different backgrounds make them seem like an unlikely couple. What makes their relationship work?
I really loved the disparity in lifestyles between the two. I love the fact that Jace, in Bethany's words, existed in a completely different world than her. And in a way she was right. But I also loved the fact that Jace refused to believe that. He tells Bethany there is only one world and she's in it with him. It takes some doing for her to see that, with a lot of help from Jace. But I also think where Bethany comes from gives Jace some perspective and understanding.
Jace and Bethany's first sexual encounter also includes a third — Jace's best friend Ash. You're known for writing outstanding group sex scenes, filled with passion and emotion. Care to share any tips for those looking to try their hand at writing ménage scenes?
For me any sex scene has to have emotion. I'll qualify that by saying that sex scenes that occur EARLY in a relationship before an emotional bond has been established ARE and SHOULD be different than ones that come later. It's always my goal to show the evolution of a relationship through love scenes. In the beginning, sex scenes are sometimes lighter and not as "emotional" because it's just "sex" and the start of something "more" but as the relationship progresses then so too should the love scenes reflect that evolution and become more about the emotion rather than clinical sex. I find that the more emotional a sex scene, the better the actual sex is.
In your Breathless trilogy, Gabe has found true love with Mia in Rush, and in Fever Jace finds Bethany. The last of the friends, Ash, is now operating solo and we are hoping you give him an excellent HEA. Can you tell us what's in store for Ash in book 3, Burn?
Ash is a very intense character. In a lot of ways even more so than Gabe or Jace but in a different way if that makes sense ;) He knows what he wants and when he sees it, he goes after it, no holds barred. Which can kind of get him into trouble. I'm HOPING readers will think he has an awesome HEA and that they think Josie is a perfect fit for him :)
Beyond the Breathless trilogy, what other projects can we expect from you? 
Colters' Gift, the 5th book in the Colters' Legacy series, will release November 5 and I also have plans to release the first book in the Tangled Hearts Trilogy, Theirs to Keep. I don't have an exact release date yet but I hope to have news on that front soon :) I have some other surprises in the works and hopefully will be able to talk about that soon. Not holding out on you, promise! But I still have to iron out all the details.
You can pick up a copy of Fever, and book 1 in the Breathless trilogy, Rush, both available in stores and online now. And for more spicy reads, visit our Everything Erotica Page.