Author Q&A: Maya Banks Talks Colters' Gift And Upcoming Projects
Tue, 11/05/2013 - 12:04pm — admin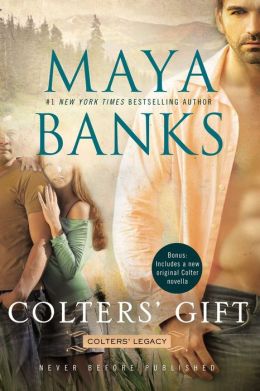 Maya Banks has quickly become a major name in the romance world thanks to her impressively sexy and bold stories that have captured readers' hearts, including ours! Today, we chat with Maya about Colters' Gift, her latest release and the last book in the Colters' Legacy series. It's been seven years since the first book in the series was published, and Maya discusses how her writing process has changed, the challenges of writing the new book and what her readers can expect to see next.
***
It's been seven years since the first Colters' Legacy book, Colters' Woman, hit shelves in 2006 and you've released many stories since then. How has your writing process changed since the first Colters' Legacy book?
Gosh it's hard to believe it's been seven years since Colters' Woman released! So much has happened since then and yet that book, in many ways, defined my career. It was the book that readers really responded to and gained me such a large audience.
My writing PROCESS hasn't changed so much because I still approach each book in the same way. Whatever I'm writing at the moment gets my undivided attention and 100 percent of my effort. I can't multitask. I'm terrible at it! And I can't work on more than one book at a time. I would love to be able to, but I just can't!
But I believe my writing has evolved and gotten better with every book I've written. I think it's still getting better with every book, 60 books later. When I look back on my earlier efforts I see a lot of flaws. Things I could have done better. The writing could be richer and better developed, but I don't regret those early books at all. They were a valuable part of my writing development and process and I do know that they were the absolute best that I could have made them at that point in my career. Just like the books I write now are the absolute best I can make them.
What was the biggest challenge in writing this book? What was the easiest part?
The biggest challenge was wrapping up the series in a satisfying, emotionally heartfelt way that I felt would satisfy fans of the series and the Colter family. It was hard to let go and know that I wouldn't be writing any more stories in this series. I have a connection to the Colters because I know in many ways they launched my career.
The easy part was falling back into the world of the Colters. The family and the characters. It was as if I'd never left!
How would you describe Lauren in five words? What's her biggest flaw? Her greatest strength?
Loyal, giving, fragile, loving and generous. Her biggest flaw is her inability to rely on the people around her, fully trust them and instead of seeking to protect them, instead rely on them to protect her. Her greatest strength is her capacity for love and her generous nature even after suffering repeated setbacks.
What are some qualities readers will love about Liam and Noah? As the leading men, I'm sure they have a few swoon-worthy aspects to them!
Liam and Noah are the ultimate protective, alpha males. They'll go to the wall for their heroine but it's their patience and understanding that most appealed to me. They were prepared to wait for as long as it took for Lauren to be ready to move on in their relationship.
The book also includes a novella, "Colters' Legacy". What can readers expect to see in it?
When I finished Colters' Gift, I was gripped by the certainty that the story still wasn't "finished" I wanted to give readers a stronger resolution and one last glimpse of ALL the characters in the Colters' Legacy series. So fittingly, the novella itself is called "Colters' Legacy" and I believe it's a very appropriate ending for the series. I hope readers will walk away with a happy sigh and feel as though they've spent quality time with a fictional family.
What positive changes in the erotic romance genre have you noticed since you first started writing?
I think most authors and readers understand the complexity of writing erotic romance. That it's not merely about sex, sexual situations, kink or titillation. That there needs to be an emotional story behind any sexual content and that without that story and that emotional connection between the characters that you're left with nothing more than an erotic piece that isn't necessarily "romance."
I think some of the "shock value" has diminished. For a while, it seemed, at least to me, that authors were trying to find that "next level" and instead of focusing on what was working and writing it WELL, they were seeking to find another way to write for shock value. As a result there was definitely some off the wall CRAZY stuff out there!
Readers just want a good story, however that happens. As long as the author gives them that, there's no need to up the ante and go from "over the top" to sheer insanity.
What do you have lined up next?
I have the Surrender trilogy releasing next year in Feb, May and August. I'm really excited about that trilogy because it really explores more of the emotional aspects of dominance and submission while not necessarily being devoted to the more physical aspects.
I'll also be continuing the KGI series with the 8th book, After the Storm, releasing on January 7th. It features the long awaited story of Donovan Kelly. After him, book 9 will feature a KGI teammate ,"Swanny", and will likely release in summer 2014. I don't have a title yet but I'll be posting that info as soon as I get it!
I also just released the first book in a self published trilogy called Theirs to Keep and it's an ode to the Colters' Legacy series in many ways. It's most reminiscent of that series at any rate. I hope to release the next two books in that trilogy soon as well. If readers enjoyed the Colters' Legacy series then I'd definitely say they'd enjoy the Tangled Hearts trilogy as well :)
***
Colter's Gift is available today, so be sure to purchase your copy in-stores or online today! You won't want to miss this delightful and sexy conclusion to the series! And for more erotic romance authors, books and buzz, head over to our Everything Erotica Page!