Author Q&A: Sasha Grey Introduces The Juliette Society
Fri, 08/23/2013 - 4:40pm — admin
Everyone's flocking to erotica these days — both readers and writers — and perhaps no one's as uniquely qualified to join the genre as ex-adult film actress Sasha Grey. Her erotic fiction debut, The Juliette Society, which garnered 4-and-a-half stars in RT's September issue, releases on August 27 from Grand Central Publishing. We talk to Grey about this intriguing novel, which reviewer Marla Hardy called "shocking and smart — a film buff's paradise."
***
You've modeled, worked on music and acted in a variety of projects — like indie films and even on HBO's Entourage. What made you want to tackle erotic fiction?
I've written since I was about 10 years old, and I've been writing screenplays with my mentor Anthony D'Juan since I was 16. It's always been a love of mine, but it wasn't until this current wave of erotic fiction — and the requests of countless female fans — that I thought it would be a great idea. I looked at what else is currently out there, and I felt that erotic fiction had basically turned into romance novels. There's hardly a difference.
My character, Catherine, is in a relationship; she's in love with her boyfriend, named Jack. She isn't looking for some Samson to come sweep her off of her feet, and she most definitely isn't sexually naive. Her expectations and desires in her relationship are much more realistic, like most independent women today. That is, of course, until she experiences her sexual awakening. When I got into porn, I wanted a challenge. And here, now, with The Juliette Society, I've given myself another challenge. It's the first time I've really "directed" my own story. I have control over the entire world, and that is exciting. Luckily, I had editors who were quite happy with the material I presented as well!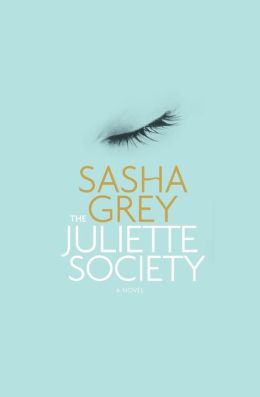 Where did the idea for The Juliette Society come from?
I had many female fans who enjoy porn, but who are also sort of bored by the predictable routine. The written word is more powerful and stimulating than most video porn we can find online. While writing, I was heavily influenced by classic erotica such as Candide, Thérèse the Philosopher and 120 Days of Sodom.
What do you think of the whole Fifty Shades phenomenon? Do you feel like it's "normalized" or mainstreamed discussion of women's sexuality?
I think it's great that it's allowed a dialogue about BDSM to be spoken about openly in pop culture, in a huge way. BDSM is so often looked at as abuse, so I think it's a huge step for people who are already into BDSM, and those who are interested. However, I wish the character [of Anastasia Steele] wasn't so judgmental about it.
What I love about The Juliette Society is that it's really film student porn in the best way. Catherine's own journey is pretty much a reflection of the art she consumes. Was that something you went in intending, or did it develop naturally as the story unfolded?
Catherine was the first character I constructed, and I knew I wanted to make her a film student. I wanted her love for cinema to move the story along and, as I wrote in the book, plot is subservient to character. The Belle de Jour and Eyes Wide Shut references were ideas I had from the beginning. Some other films are much more random choices that came along at night while watching a movie.
Out of all of the films name-checked in the book, which ones would you most highly recommend to readers?
Belle de Jour would have to be the first, because it's the film that propels Catherine into this hyper-fantasy world. Cruising, Two Lane Blacktop and Lost Highway are the other three I'd recommend first.
Will we see more from Catherine and the denizens of the Juliette Society?
Most definitely!
What do you hope readers ultimately take away from the story?
Although it's a fantasy, I hope readers enjoy the humor as well as the eroticism!
You can pick up a copy of The Juliette Society, available tomorrow! For more erotic love stories, be sure to visit our Everything Erotica Page.