Author Q&A: Shayla Black On Ours To Love
Wed, 05/22/2013 - 2:43pm — admin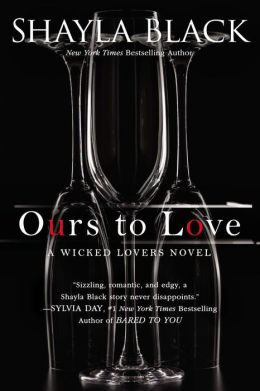 Shayla Black's latest Wicked Lovers novel, Ours to Love, hits shelves this month, and offers readers a sensual ménage romance. When wealthy brothers Javier and Xander decide to get away from it all by traveling to Louisiana, they don't expect to both fall for sweet London McLane. But the passion between the three is intense, and London's love manages to mend the rift between the siblings. Today we ask the author about her new story, how writing a ménage is different from crafting a traditional relationship and what makes the bond between Javier, Xander and London so special.
***
Your latest release, Ours to Love, features a billionaire playboy Dom. With so many wealthy, dominant men in erotica these days, what makes Xander an exceptional hero?

What made Xander a pleasure for me to write was the risks he is willing to take to help those he loves. He puts everything on the line when it counts, no matter the personal cost (beyond dollars and cents) to himself. I also think it is very important for him to acknowledge that, while he has a fortune some of his friends don't possess, he also has the true affection and constancy of a beloved woman that no amount of money can buy. Xander presents a façade to everyone, like he doesn't have a care in the world, but the man underneath is infinitely more interesting and complex.
Xander isn't the only hero in this story, his brother Javier plays an equally important role. Tell us, how do two brothers manage to fall for sweet London McLane during their visit to Louisiana?
This book is all about healing for me. London may have visible scars to mark her terrible past, but Xander and Javier's scars are, in some ways, deeper. Her determination and courage to overcome her tragedy gives them more drive to tackle their own. Her understanding and great capacity for love is exactly what they both need to become whole again. No way they wouldn't fall for that!
Part of what makes this book so enjoyable is the banter between Javier and Xander. How can two bickering siblings manage to share the same woman?
London actually becomes the reason their relationship can be saved. She is the common ground, the bridge. When they can agree on virtually nothing, they can agree on what she needs to be complete and happy. Through her, each brother develops a deeper understanding of the other that ultimately transcends the problems between them.
What is it, aside from the physical aspects, about the dynamic of ménage relationships that drew you to write Javier, Xander and London's story as a threesome?

Ours To Love couldn't have been written in any other way but a ménage. Each needs the other two to fill the emotional gaps inside themselves. Through shared support and love, all develop the trust and resolve to make the relationship work, even if opening their wounds and revealing their deepest scars to the others is painful and difficult. There is no way for them to persevere but together.
The trio is in danger when a killer comes after them, determined to take down the Santiago's empire. With endless resources at their disposal, what's your favorite way the brothers choose to protect London from harm?
What I like about their choices to protect her is that they are personal. They do everything in their power to rescue her in their way because it is their duty and their right. They are willing to lay their pride low and sacrifice everything they hold dear to save her. To me, it's when they are most heroic.
Can you give us any hints about what's next in your Wicked Lovers series?
Absolutely! The next novella in the series will be in the Wicked and Dangerous anthology, which releases on October 1. Then on March 4, 2014, Theirs To Cherish will hit shelves. I'm nearly done with the book now, and it might be my personal favorite. I've harbored this story in my heart for quite a while, waiting for the right time and the right puzzle pieces to be in place. I'm so thrilled to be writing this book. Readers can find details and blurbs on my website.
You can pick up a copy of Ours to Love, available online and in stores now. And to find out about more ménage romances visit our Everything Erotica Page.