Author Q&A: Sherrilyn Kenyon Talks Styxx - With Giveaway!
Mon, 09/09/2013 - 10:44am — admin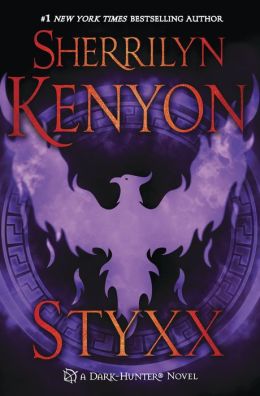 Sherrilyn Kenyon's latest Dark-Hunter novel, Styxx, hit shelves last week, and we decided to celebrate this long-running series by asking the author about her wounded hero Styxx, writing a character with a disability and what readers can expect next. Plus, we've got a chance to win either a hardcover or audio CD copy of the book!

***
Styxx is the 23rd book in the Dark-Hunter series. How has your writing changed since book one?
I would like to think that it's improved. I might be delusional, but that's what I hope and strive for with each publication.
The book takes some pretty dark twists and turns. How does the dark tone enhance the overall story?
It's not any darker than any other book I've written. The books, like life, have moments of profound laughter and sadness. The darker tones in all the books give a better understanding of the characters. No life is lived without bitter tragedy at some point. Those moments define us all. I write from what I know, which is that a horrible past doesn't have to ruin your future. That people can pick up and move forward, even while they're still bleeding inside. As Bethany says in the book, "wounds can and do heal." Unfortunately, the scars they leave behind, especially on the soul, are eternal. Life is about learning how to live in spite of those who have willfully and wrongfully damaged you. It's about finding a haven in the midst of a tempest.
Styxx falls in love with Bethany, who is blind. What kind of preparation did you do to write a blind character?
Bethany is not my first blind character or even heroine. I've written quite a few of them. My older sister is special needs (she's blind in one eye, legally blind in the other, and deaf with Cerebral Palsy) and I've grown up with many who are without hearing and sight. One of my best friends who's blind rides horses like a champ. I'm very hard of hearing myself, but most people don't realize that's why I stare so intently when they talk to me. I'm reading their lips, otherwise I can't tell what they're saying. And I can't sign very well because I have a partially paralyzed hand. We are all people. We all have challenges in our daily lives. I didn't treat Bethany any differently than anyone else, other than the fact that she, like Styxx, has to make accommodations from time to time. I don't make a big deal about those accommodations because, again, everyone has something they have to deal with. My mother trained me well on the fact that there are no disabilities unless we make it so in our minds. Over, under, around or through, there is always a way to get to what you want.   
Styxx likes to sketch. How does his love for drawing help him cope with the various trials he undergoes?
Like any artistic endeavor, it's a temporary escape. It gives you something beautiful to hold onto and focus on in an ugly and harsh world.
What do you hope readers take away from Styxx's story?
I don't really write for lessons, but for entertainment. That being said, it deals with the same theme as many of my books: Be kind to everyone. Don't judge others on something superficial and trivial, or make assumptions about another person. No life is without pain and suffering. You can't look at anyone and tell what they've been through or what they're going through. A single smile can hide profound pain. And a smile given could be a lifeline to a soul in agony. We are all battle-scarred warriors, and we are all deserving of respect and love.
What can readers expect to see as the series continues?
More challenges for the characters they love and to meet new members of their families. Most of all, expect the unexpected.
***
If you haven't picked up Styxx yet (or lifted it with both hands, because that is one big book), we're giving away three hardcover copies and one audio CD copy of the book. To enter, simply leave a comment on this post telling us which format your would prefer (print or audio). A winner will be announced September 16. U.S. residents only, please. Good luck!
UPDATE:
The winners of the three print copies are: Holly Sweany, Brad Jae and LilMar.
The winner of the audiobook copy is Suzy K!
If you don't want to leave it to chance, you can buy a copy of Styxx, available now. And for more paranormal romance visit our Everything Paranormal & Urban Fantasy page.