Author Reveal: Find Out Who Lindsey Piper Really Is
Fri, 07/12/2013 - 1:25pm — admin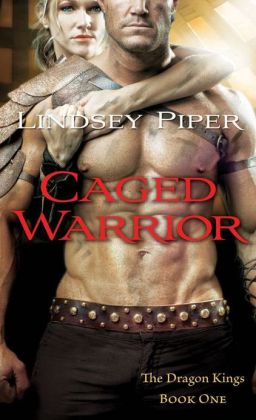 If you read our August issue Q&A with paranormal romance "newbie" Lindsey Piper, then you know that she's crafting quite the delicious monarchy with her new Dragon Kings series — and that she's someone fans are already familiar with. So, who is the mysterious dragon lady? You know her as historical romance author Carrie Lofty and one-half of the writing team behind scandalous siren Katie Porter! Grab a throne and take a seat, as we ask Carrie all about ruling her new kingdom … and what territory she's taking over next.
***

You've written as Carrie Lofty, Ellen Connor and Katie Porter. How did Lindsey Piper come to be?
My Katie Porter and Ellen Connor names are co-written, so they didn't figure into the equation with regard to Pocket and the Dragon Kings. All we wanted [with Lindsey] was a really distinct way to distinguish the lush, sensual historicals I write as Carrie Lofty from this grittier, sexier paranormal world. My stories are definitely romances, and they all have adventure and strong characters, but they're so divergent in tone and genre. We wanted to make sure readers came to The Dragon Kings without any expectations.
What was the hardest part of keeping Lindsey under wraps?
The hardest part was not being able to tell my existing Carrie Lofty fans! We wanted to make a fresh start to posit me as a debut paranormal author, but that meant sacrificing the identity I'd already created. Still, it has been the right decision because the Dragon Kings series is nothing like the historicals I've written as Carrie Lofty!
How do you keep all your pseudonyms straight? Are you worried you might have an identity crisis soon?
Soon? It's already here! I have what I call the White Board of Doom, which outlines all of my names, publishers, due dates and the current states of each project. My life would be an even tighter tangle of knotted thoughts without it, because in most other respects I'm a wee bit disorganized.
You and your writing partner for Katie Porter, Lorelie Brown, recently picked up a whole bunch of shiny at the RT Reviewers' Choice Awards. What was that like?
We were thrilled! Two awards! We walked out of the awards ceremony looking like we robbed a trophy case. We've been friends for seven years, and then critique partners. Only in 2010 did we muster up the nerve to test that bond by writing together. Although we've both written sexy books, we've never written anything as provocative as our Vegas Top Guns series. Writing a male/male romance, Came Upon a Midnight Clear, was another first for both of us. To be acknowledged so quickly after our late 2012 debut has been dizzying and amazing.
You also won for your excellent British Isles-set historical, Starlight, but the Christies series is on hiatus for now. Will we ever see the Christie family again?
I am a historical author at heart. I have a master's in history and it's always been my first love. That I'm trying new avenues doesn't mean I'm turning my back on that love. Besides, with four siblings — but only two having received their happy endings — the Christies series is an incomplete thought in my head and an incomplete arc for readers! Don't despair. They all have partners waiting for them in the world, and I can't wait to write their adventures.
What would you say to your historical and erotic romance readers who might be wary about picking up the Dragon Kings series? 
For the historical fans, I'd say this is more violent and earthy. I don't pull too many punches with my historical research, especially with the rough conditions in colonial South Africa in Flawless or urban Glasgow in Starlight, but this is paranormal — super beings with a penchant for being really hard on each other, in the Cages and in their unconventionally hardcore romance. For the erotica fans of my co-written Katie Porter books ... well, again, the violence. But the sex is smokin' hot. That won't be something they'll find lacking!
What's next? And how do you make time for what's next, you busy lady?
I've had the privilege of writing full time since the start of my career, through the support of my husband and very convenient timing regarding when I first published and when my kids started school! That means a full working day … pretty much every day. I've been trying to find balance, which I bet you'll find every author longs for. I'm lucky in that an outside job is one less thing I have to balance.
As for what's next, Lindsey Piper will release the third Dragon Kings book, Hunted Warrior, in 2014. Katie Porter is anticipating the finale of the Vegas Top Guns series in October, with the release of Bare Knuckle, and the continuation of our sexy burlesque series, Club Devant, in January with Watch and Wait. But the big news is that Carrie Lofty — that's me! — will be releasing a New Adult title by the end of 2013. I'm so excited to be trying my hand yet another genre. Maybe I'll try horror next. Believe me, I've had ideas …
Follow the author's identities all over the web for her updates — visit LindseyPiper.com, CarrieLofty.com and KatiePorterBooks.com — and pick up Caged Warrior, in stores now. For more genre news and coverage visit our Everything Paranormal & Urban Fantasy Page.