Author Teri Brown On Magic, Mystery, Jazz And Harry Houdini
Thu, 06/27/2013 - 11:33am — admin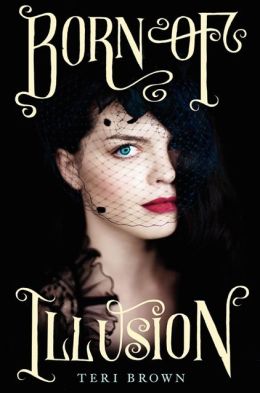 Teri Brown's Born of Illusion is an imaginative, detailed and truly enchanting story about Anna, a teen who may or may not be the illegitimate daughter of Harry Houdini, and her struggle to control her growing powers to see the future. Secrets, love and danger will take readers on a whirlwind of an adventure set during New York's Jazz Age. Author Teri Brown is here today to discuss the research process for the story, how it all led to the creation of the book, and sheds some light on the sequel!
Born of Illusion was hands down the most fun I've ever had researching a book. I got to interview magicians, watch reels of 1920's NYC footage, listen to  jazz, read biographies on one of the greatest escape artists who ever lived and delve into the facts and myths behind the oldest and one of the most secretive paranormal investigative clubs in the world. 
The Ghost Club was originally founded in 1862 in Cambridge and counts Charles Dickens among one of its founding members. Throughout the years it has undergone several incarnations and at one time, The Ghost Club ran simultaneously with another organization called the Society for Psychical Research. Because both organizations had many overlapping members they more or less merged in later years. W.B. Yeats, Sir Conan Doyle, Harry Price and other intellectual luminaries were also members of the Ghost Club. 
One of Sir Conan Doyle's best friend's at the time, Harry Houdini, was very interested in psychic phenomena. After the death of his beloved mother, Houdini desperately sought anyone who could put him in touch with her spirit. A trickster of the first caliber, Houdini could spot a fraud a mile away and soon became convinced the spirit world could not be reached by mortals. He and Sir Conan Doyle had a very public falling out over the matter. Houdini was appalled by how many people were being bilked out of money by fake mediums who promised the moon. He made it his personal mission in life to expose them all and even wrote a book about it called A Magician Among the Spirits.
It is against this historical backdrop that I place Born of Illusion. When not performing her magic on stage, my heroine, Anna, helps her mother run fake séances to supplement their meager income. But then I decided to take the plot a step further and create the possibility of Harry Houdini being Anna's father. POW! Conflict exploding all over the place! Throw in a couple of dashing young men, a speakeasy or two, an almost sociopathic mother and a mob princess and I have myself a book that was as much fun to write and research as it is to read. 
As the second in the series, Born of Deception is much darker than Born of Illusion and takes place in jazz era London. It focuses more on the Society of Psychical Research and includes black magic, psychics, vaudeville, costume parties and murder. Anna is still the main character, but we get to meet Harry Price and Aleister Crowley. The creep factor of those two men is off the charts. Trust me, researching Aleister Crowley, a twentieth century warlock and occultist, is NOT something you want to be doing late at night. There were times when I had to turn off the computer or shut the book and go listen to Hall and Oates or watch The Brady Bunch.
Currently, I'm working on another historical and I'm having almost as much fun doing the research for this one as I did for Born of Illusion. Almost, not quite! Exploring the world of magicians, mentalists and spiritualist in 1920's New York is pretty hard to beat. 
- Teri Brown
PS. Don't forget, "Born of Corruption", a companion e-novella starring Anna's best friend, mob princess Cynthia Gaylord, will be coming out next May from HarperTeen Impulse!
Intrigued? Then be sure to pick up your copy of Born of Illusion available in store and online now! And keep up to date on all the latest YA buzz over at RT's Everything Young Adult page!