It's "Inside the author's studio" with Maureen Child who also writes paranormal romances under the pen name Regan Hastings. Today this talented author shares what it's like to write across genres and what she does to sweep fans off their feet, no matter which genre of books they read.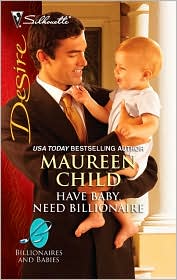 As Maureen Child, I've written a lot of books for Silhouette Desire (soon to be Harlequin Desire). As Regan Hastings, I launched my brand new Awakening series of dark paranormal romances last week with the release of Visions of Magic. In both the category novels and the single titles, I created a fantasy experience for the reader, but of a very different sort.
For example, with January's Have Baby, Need Billionaire, I created billionaire Simon Bradley. Tula's love for him will have nothing to do with his money, of course, but the reader will know that she'll never have to worry about how to pay her utility bill. She'll have a life with the man she loves and who loves her, plus she'll live in comfort and security forever. Desire readers tell me all the time that they love imagining themselves living in the heroine's shoes.
The fantasy world I created in Visions of Magic, on the other hand, is not a place you'd want to live. It's a dark and dangerous world where women who are suspected of witchcraft are imprisoned without trial. Fear is ubiquitous and has been for ten years, since society learned that magic is real. And the fear is founded in eye witness accounts of witches doing terrible things like setting people on fire.
7

COMMENTS
SUBSCRIBE TO RSS FEED
EMAIL
SHARE
PERMALINK
READ ENTIRE POST