Avery Aames Dishes Up A Cozy Read WITH GIVEAWAY
Fri, 07/16/2010 - 4:40am — admin
I've been an avid reader my whole life, switching to adult books at about 13. So there isn't much in the way of genre fiction that I haven't read.

Romance. Check

Paranormal. Check

Graphic novels. Check.

Cozies … wait.

How is it that with almost two decades of reading under my belt that I have never tried out a cozy? It has got to be because my favorite thing about a mystery is the hardened detective tracking down the bad guys. I've always been a little skeptical about the genteel amateur sleuth.

But this past week I gave into the peer pressure from RT Senior Editor Stephanie Klose, our resident mystery aficionado, and picked up my first cozy which happened to be Avery Aames' A Long Quiche Goodbye.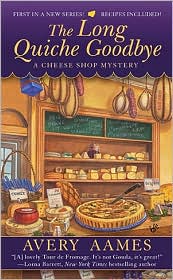 The first thing that struck me about the novel was that the story started not with a bang as in the mysteries that I have previously read, but a nuanced look at the story's main character. Charlotte, a cheesemonger, is re-opening her newly inherited shop in small town Providence, Ohio. The reader is treated to an insiders look of the town through Charlotte's eyes. We are shown her inner fears that her shop will not be a success as well as her disappointment in her business partner and finally her anger when her grandmother is wrongfully accused of murder. From there, the story heats up as Charlotte tries, most of the time in vain, to clear her grandmother's name. A fantastic read, this cozy was truly a special treat. Which made meeting the author Avery Aames at ThrillerFest a delightful surprise.
It turns out that Avery is as gracious as her main character and patiently listened to all of my opinions about my newly discovered appreciation of the cozy book. I, of course, had to tell her how much I was looking forward to her next novel, the sequel to A Long Quiche Goodbye, but I was also a little worried. Just how many crimes can a cheesemonger in small town America stumble upon? Avery laughed at this and said that this can be a problem. "As much as well all love Jessica Fletcher, if you were her friend, you would probably end that friendship pretty quickly."

Avery says that to combat the potentially unrealistic ongoing storylines of the amateur sleuth, she makes the setting as believable as possible to add a sense of realism to the story. For example, in order to write A Long Quiche Goodbye Avery took a tour of the Amish country in Ohio where the story is set. (Go to the author's website to see photos of her trip to Holmes County).

And while I agree with Avery that the setting of the story is fantastic, I was also quick to point out that I felt it was the characters' interactions that lent a sense of realism. Avery says that this was exactly what she strived for. "When people know each other for a long time, they draw on those memories in every interaction. They speak in a different language to each other." And that is what the reader gets. There is such depth to these characters with the small town politics, everyone knowing everyone else, that the reader can't help but become caught up in their lives. Especially Charlotte.
Perhaps my favorite part of the story was during the investigation when this not-so-intrepid heroine makes missteps that prove to be embarrassing. Getting caught snooping and accusing innocent people of crimes are only two of the many, many mistakes that she makes throughout the book, but this aspect of her character is more endearing than off-putting. Charlotte can be stubborn and slightly reckless, but she is also loyal and loving. I told Avery that I would love to be seen as a Charlotte, but the author says that I reminded her much more of her Rebecca character. I take this as a complement as Rebecca is an intriguing in her own right with tons of curiosity and willingness to try new things.

I recommend that readers go out to get the newly released A Long Quiche Goodbye in order to meet Charlotte, Rebecca and the other inhabitants of Providence and to get ready for the next two books in the Cheese Shop Murder series. Lost in Fondue, which will be released next year followed by Clobbered by Camobear.

GIVEAWAY ALERT: Three lucky winners will receive a copy of Avery Aames' A Long Quiche Goodbye. To enter leave a comment about why you love cozy novels or email RT here with your comment and the subject line "Avery Aames' Giveaway". The winners will be revealed on this blog post on July 26th.
BLOG UPDATE 7/26/2010: And the winners are .... Alicia F., and users Dawn_Green and Cories!