Backstage With A Bad Boy
Mon, 01/24/2011 - 5:52pm — admin
Author Jaime Rush gives us an insider's look at the man that RT Senior Reviewer Jill M. Smith calls a "bad boy extraordinaire". We couldn't help but fall just a little bit in love Eric Aruda, the hero from February's Top Pick novel Burning Darkness, even though we understand why Fonda Raine wants him dead. Discover why we were desperate for Eric's story in this special interview and then enter to win your own copy of his adventure!
Fonda Raine lives for one thing: killing Eric Aruda for slaying her lover. But she'll have to be careful--Eric can set fires with his mind. Seconds from plunging a knife into his heart, an assassin tries to take them both out. Now, she must choose: join forces with the man who's burning through her defenses or go down in flames.
For my fourth book in my Offspring series, Burning Darkness, I thought I'd interview the main character, Eric Aruda. Eric has been in the series from the beginning, fascinating, irritating, and heating up readers. Me, too, for that matter. So I sat down with Eric and--
Eric: I heard you wanted to kill me off in the beginning.
Jaime: Well, I was going to introduce you, but I guess we'll jump right in. Who told you that?
Eric: I peeked at your notes, you know, the early proposals and stuff.
Jaime: Figures. No, I hadn't exactly planned to kill you.
Eric: Define exactly.
Jaime: I figured you'd probably kill yourself off. You know, blow yourself up in a blaze of flames or maybe race into an ambush and get shot up.
Eric [shoulders widening, nodding, with a smile]: Yeah, I could see that. Go out in a big way. Like that Bon Jovi song, "Blaze of Glory." Smile fades. But then I'm gone, and that wouldn't be cool. What had me worried most was that you've killed off secondary characters before.
Jaime: I have. [stifling evil laugh] It's not easy to do. I even killed off one of the Offspring, but we never got to know him. We definitely got to know you.
Eric: How come you said it like that? Like, what, I was hard to know?
Jaime: Let's just say, you came on a little, er, strong. There were a few characters who wanted to kill you off. Amy sure had her moments.
Eric: Amy. My half-sister. And you had me kissing her before I knew about that. Sick, man.
Jaime: You did that all on your own, buddy. Actually, I don't think I even knew you were related at that point. And what about that scene on the couch—
Eric: Let's not go there. I didn't know I was going to be a hero. I would have used a little more discretion.
Jaime: Really?
Eric: Eh, probably not. But even in my book, you tried to do me in. Pair me up with a woman bent on homicide. No one else had a homicidal lover.
Jaime [not containing evil laugh]: She's your perfect match, isn't she? I loved the scene when you realized she was a lot like you. And when you kissed her and she accused you of kissing yourself. But you know, I didn't plan on Fonda being your woman. It just sort of happened. Kind of like you being a hero in your own book. It's fun not to know all the details in the beginning.
Eric: I'm the big pain in the ass. I deserved to be in my own book.
Jaime: Yes, you are.
Eric: Don't you mean 'Yes, you do'?
Jaime: Nope, just yes you are.
Eric: Now I know where I get it from.
Jaime: Get what from? Are you saying--?
Eric: If the shoe fits, babe.
Jaime: Maybe so, but your pain-in-the-assness came from you, all the way.
Eric: And you loved it.
Jaime: Oh, yeah. [ahem] You're arrogant and stubborn and hot and you made me realize why women readers love alpha males.
Eric [grins]: Glad I could oblige. And I look good naked, too.
Jaime: Oh, my, yes. That was another favorite scene of mine, when you were changing at the park, and Fonda is totally thrown off by your nonchalance. So, what was your favorite part of your story? Okay, besides the sex scenes.
Eric [grinning, staring off into the distance]: I do like the sex scenes.
Jaime: Uh, Eric, can we go back to the question?
Eric: Question? Oh, favorite scene besides the sex! [scratches chin, slow, evil grin] The airplane propeller scene.
Jaime: I thought you might pick that one. That was pretty cool, wasn't it?
Eric: Can we do it again?
Jaime:That was a once-in-a-lifetime scene, and it was just for you.
Eric: Kewl. So, one question for you: will I get to come back?
Jaime [rolling eyes]: Only if you're a good boy.
Eric [laughs]: Yeah, like that's going to happen.
Jaime:That's what we love about you. Bad-assed, but tender-hearted—
Eric: Don't tell anyone about that part. I've got a rep, you know.
Jaime: Oh, I know. But it was sure fun watching you fall.
We definitely enjoyed seeing it happen! You can take home your own copy of  Eric and Fonda adventure in stores now. But don't miss your chance to enter in the author's Kick Butt First Line contest  running for the entire month of February. And be sure to enter to win your own copy of Burning Darkness below!
GIVEAWAY ALERT: Three lucky winners will receive their own copy of Burning Darkness. To enter leave a comment about your favorite bad boy. Or email your comment here with your US mailing address and the subject line "Jaime Rush's Burning Darkness Giveaway." The winners will be announced February 7th.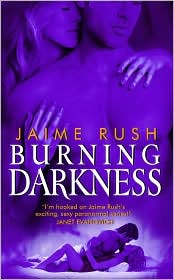 BLOG UPDATE 2/7/2011: And the winners are ... Dina, Amanda C. and Teresa K.