Barbara Ashford Talks About The Original Ending Of This Month's Spellcast
Wed, 05/04/2011 - 10:22am — admin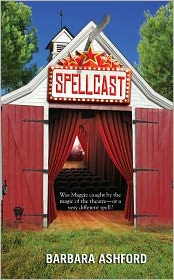 Sometimes where you end up isn't where you are heading. Author Barbara Ashford learned this the hard way when her new fantasy novel, Spellcast, became much darker than Ashford had anticipated writing. Today the author chats with us about the original ending of what RT's Senior Reviewer Natalie A. Luhrs calls a "compelling" story about "the transformative power of theater."
"Welcome to the Crossroads."
After I typed the final words of Spellcast, I sat back and stared at the computer screen in disbelief. This was not how the book was supposed to end.
When I pitched the idea to DAW Books, I knew the basic plot. Maggie Graham loses her job in New York City. Drives up to Vermont for a getaway weekend to regroup. Stumbles upon the Crossroads Theatre. Reluctantly allows herself to be lured back into the world of theatre that she had abandoned years earlier. And – with equal reluctance – falls under the spell of theatre director Rowan Mackenzie, a man with strange powers and a mysterious past.
I envisioned the book as fairly light in the early chapters. Yes, Maggie was dealing with a life crisis – a couple of life crises – but I wanted her to do so with strength and self-deprecating humor. As her journey of transformation grew more difficult, and secrets about her past – and Rowan's – were revealed, I knew the book would become darker. But I also knew how it would end.
Until I typed those four words: "Welcome to the Crossroads."
I rewrote the last chapter with the ending I had originally planned. It felt…tacked on. I fiddled with it some more. How tough could it be? This was the way the book was supposed to end!
I sent both endings to my editor. Waited about five seconds and called to get her take on the second ending. She said it felt…tacked on.
Sigh…
Looking back at my original synopsis for DAW, I understood why. The ending I'd pitched was filled with the same humor as the opening chapters. But Maggie wasn't in that place any longer. She had changed as a result of her journey. And the ending of the book had to change to reflect that.
On a subconscious level, I'd clearly understood that and written the ending that Spellcast needed. It was just harder to get my stubborn, conscious self to let go of the ending I wanted – for the book and for Maggie.
So I told my editor that I needed to write a sequel. And she agreed.
Yet another unexpected ending! And a new beginning – for Maggie, for the Crossroads Theatre and for me.
Thanks for visiting today. And thanks, Morgan, for inviting me to share Maggie's journey – and mine – with RT readers. I hope you'll stop by www.BarbaraAshford.com to read an excerpt from Spellcast and learn about my experiences as an actress in summer stock theatre that provided the inspiration for the novel.
- Barbara Ashford
So how does this fantasy tale end? You can pick up your own copy of Spellcast in stores now!