Barbara Delinsky On Her New Reissue, Her Favorite Reads And What's Next
Tue, 09/25/2012 - 11:26am — admin
Writing heartwarming stories since the 1980s, Barbara Delinsky is an auto-buy author for many romance readers. This bestselling author has become well known for her mainstream fiction reads, but she is reissuing two of her classic romances, A Special Something and Heat Wave as a new book, Warm Hearts, which hits shelves today. We're eager to re-visit some of our favorite classic love stories, so today the author shares some details about the upcoming book and reveals some personal ties to the heroes and heroines of both stories. Plus, we get a special look at the author's current reading list as well as a sneak peek at what's to come!

***
We are thrilled that you're re-releasing 1987's Heat Wave and 1984's A Special Something as the new book Warm Hearts. Did you re-read the books before you agreed to re-publish them and were the stories the way you remembered writing them? 
Yes, on both counts. I certainly did reread them. I wanted to be sure they stood the test of time, and they did! Funny, even after so many years and other books, these stories came right back to me. More than even the plot details, I could remember the inspiration for each. I was right back there writing them again — without all the work, just pure enjoyment!
With your incredibly busy schedule, we imagine that you can relate to your stressed out heroine, Caroline, in Heat Wave. In order to get some R&R, Caroline takes some time with her hunky neighbor Brendon. What is something you do in order to relax from a difficult day of writing?
Life imitates art. I take some time with my hunky husband Stephen! That said, when I'm in the middle of writing a book, I can't read other people's books. So my evening relaxation involves knitting, doing crossword puzzles, and playing Words With Friends with seven fellow addicts.
In A Special Something, Leslie first sees Oliver modeling in a cologne ad in a magazine. So we have to ask, what three scents do you love to smell on a man?
"Canoe" was the big cologne guys wore when I was in high school, so when I get a whiff of anything like it now, I'm transported. Leather also does it for me, a very masculine (and organic) scent. And then there is the clean, male, natural scent that varies by man. I'm actually intrigued by the idea that we're drawn to a man by his scent, and am thinking of doing a book in which pheromones play a part.
The original covers of Heat Wave and A Something Special are pretty retro-fantastic, how do you think that they compare to the cover of Warm Hearts — and do you think that the new cover of the packaged set will attract the same readers?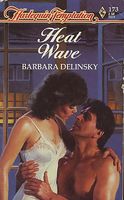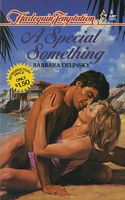 I loved these covers when the books came out, but this is a new millennium. One of our goals in reissuing these books is to get them to the audience that was too young to read them before. In that sense, the Warm Hearts cover is perfect!
In addition to the two tales included in Warm Hearts, your publisher has been re-issuing many of your early contemporary romances. What about these stories do you feel still resonates with readers? Which is your favorite/most memorable of these romances for you personally and why?
These stories are timeless. Think about it. Love never goes out of style. Even back then, I wrote about everyday characters grappling with it. This is what will resonate with readers.
I can't pick a favorite book of the bunch; these are my children, and I love each for a different reason. That said, Home Fires (née Beyond Fantasy) captures a special fantasy of mine – that of seeing a stranger across a crowded room and connecting.
Warm Hearts certainly sizzles, making it a perfect beach read. So we have to ask — what books are in your hypothetical beach bag?
My beach bag contains some books chosen by the book group I've been in for 26 years. I've just finished one of our fall books, Home, by Toni Morrison. At the suggestion of my Facebook fans, before that I read Summerland, by Elin Hilderbrand. I'm currently reading Shadow of Night, by Deborah Harkness, because I loved A Discovery of Witches. Under that in my beach bag is Gone Girl, by Gillian Flynn.
You've been writing since the '80s. What's the biggest way that your own writing has changed? And what is one thing that has remained the same?
Since I have no formal writing training, it's been a trial-and-error evolution. My earliest books were rich with the sensuality of a straight romance, but as the stories have grown more complex, my writing style has grown sleek. When I wrote Family Tree for instance, the finished manuscript was 440 pages. My editor and I cut 90 of those pages — without ever cutting a character, plot theme, or entire scene.
What has remained the same in my books over the years? Heart. My books are filled with emotion. And hope. I do believe in happily ever after.
Can you share a look at what projects you are working on next?
I'd be delighted to. My next book, just completed, is the story of two friends who reunite after ten years apart. One is a food blogger, the other a journalist, and their plan is to compile a cookbook of recipes and local lore from the island where they spent childhood summers. Once there, details of their lives clash in unexpected and heart-wrenching ways. This book is the most sensual I've written in years, with herbs taking center stage right up there with love. The title is Sweet Salt Air, the setting is an island off the coast of Maine island, and the publication date Summer 2013.
You can pick up a copy of Barbara Delinsky's Warm Hearts available in stores now. For more genre news visit our Everything Romance Page.