Beat Back The Mid-Day Blues With Diana Pharaoh Francis
Fri, 01/28/2011 - 1:01pm — admin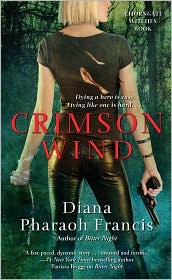 Earlier today we gave you a chance to share a coffee break with Caris Roane. Now it's mid-afternoon and we hope that this check-in on Diana Pharaoh Francis' Horngate Witches will energize you to power through the rest of the mid-day doldrums!
Hi everyone! I hope your holidays have been wonderful and I want to wish you an extraordinary and healthy New Year. 
 
I've been thinking about the holidays at Horngate. Because it is a place of witches, the solstice would be the day of celebration. At the same time, many people who live there are non-magical and come from a variety of religious backgrounds. Add in the Shadowblades and Sunspears who are equally diverse, and you have an extravaganza of religious cultures. But I imagine that everything in the end would revolve around who they are now and what they've become—members of a covenstead and a sprawling, frequently dysfunctional family. 
 
On the solstice eve they would gather together in the Great Hall, as outside the wind howls and snow fills the air in a dense whirl of white chaos. Inside, the anneau floor is lit and the ceiling and walls is decorated with flowers, garlands, holly, herbs, witchlights, strands of silver, gold and copper. Overhead iron chandeliers full of beeswax candles shower down gold beams of light. The scents of rosemary, frankincense, myrrh, cedar and sage permeate the air. 
 
In waiting silence, the yule log is lit. It is huge—an entire tree trunk—and it is carved all over with sacred symbols to say farewell to the old sun and to welcome the new year. As it burns, everyone sings merry and mournful songs while drinking wine and ale. Soon the music gives way to toasts and cheers and stories. 
 
Next come the rituals of the witches, and then a feast and gifts and dancing. The gods would be honored, the spirits invited to stay, the evils banished. In this place, on this night, warriors would not think about battle, witches would not fear attacks, lovers would give themselves freely, friends would tell stories and laugh, children would run about and squeal joyously without care. It would be the one night of peace, hope, and celebration in a year of danger. 
 
On this night, imagine Max laughing with Giselle, all rancor and anger set aside for these precious hours. Many eyes follow her, unable to look away from the astonishing serenity on her face. The Blades and Spears take their cue from her and let their cares slide away and sink entirely into the celebration of their family, their home and the dawning year. Tomorrow is soon enough to take up the heavy load of war again. 
 
Imagine Alexander taking Max's hand, pulling her into a dance. He looks down at her, hands gentle—are they shaking?--as he holds her. He can't read her expression, but he doesn't care. He is home. On this night, with the heat of her body warming his, he knows he is home at last. Then the flames between them crackle and her lips curve in a smile. It dares him to kiss her. To try. To find out if he will get burned, or if he will find heaven. He bends. His lips brush hers, soft as butterfly wings . . . 
 
I hope you come visit Horngate and see what happens . . . 
- Diana Pharaoh Francis
You can get a taste of the action going on at Horngate in this special EXCERPT of the RT Top Pick! Crimson Wind and then enjoy the entire adventure in stores now.