The Bestselling E-books Of 2012
Mon, 03/25/2013 - 1:59pm — admin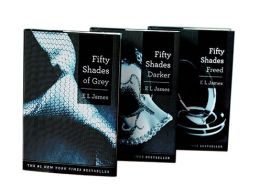 According to a recent Publisher's Weekly report, e-book sales reached an all-time high in 2012, thanks to a popular erotic romance trilogy you may have heard of. The Fifty Shades of Grey trilogy sold more than 15 million digital copies (a combined number for all three individual books, not including the trilogy bundle, which sold 850,000+ copies), surpassing the next digital bestseller by a tremendous amount.
Gillian Flynn's suspense Gone Girl sold more than 1 million copies, which is hardly surprising given the book's popularity. What is surprising, however, is that the book's digital sales surpassed print sales, which was reported to be approximately 900,000 copies.
Coming in just behind Gone Girl and the Fifty Shades books are Sylvia Day's first two Crossfire books, Bared to You and Reflected in You, which sold more than 850,000 and 500,000 digital copies, respectively. This clearly indicates that last year's erotic romance boom was filled with titles best enjoyed behind the privacy of e-readers.
But Gone Girl wasn't the lone suspense novel among a sea of bestselling hot and heavy romances. Several other 2012 mystery, thriller and suspense titles got some digital love, including John Grisham's The Racketeer, all three books in Steig Larsson's Millennium trilogy, Michael Connelly's The Drop, Vince Flynn's The Last Man, Lee Child's A Wanted Man, David Baldacci's Zero Day and Private Games by James Patterson and Mark Sullivan.
While many new books were enjoyed digitally last year, backlist titles from some outstanding authors proved to be wildly successful among e-book readers. Nora Roberts, James Patterson and Janet Evanovich all saw many of their timeless reads get new lives as digital re-releases, proving that repackaging and releasing backlists digitally is a smart move for many publishers. Digital re-releases allow old fans to enjoy books that may have been out of print or never before released digitally and gives readers a chance to discover new favorites.
Although mysteries, thrillers and romance dominated the digital market last year with jaw-dropping figures, many other literary and non-fiction titles saw impressive e-book sales as well. For a full list of PW's bestselling e-books of 2012, click here.
You can find more publishing industry news and coverage here.