Beth K. Vogt Asks How Important Age Is In Romance Novels
Wed, 05/29/2013 - 11:09am — admin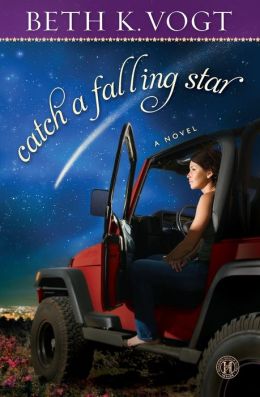 Traditionally, there are set ages for romance heroes and heroines. A young miss often pairs nicely with a (slightly) older man. But many readers know that age is just a number, it is a great story that really counts. Today inspirational author Beth K. Vogt visits the RT Daily Blog to discuss how love — true love — doesn't only happen in one's twenties. Mature characters can also find their perfect match, like the couple in Vogt's newest release Catch A Falling Star.
There is no expiration date on romance.
If you read that sentence and mentally agreed with me — bravo! The question then becomes why are so many romance novels centered on twenty-somethings pursuing their happily-ever-afters?
In my recent release, Catch a Falling Star, I examined the question: What do you do when life doesn't go according to plan? The catalyst for the story was a conversation I had with a close friend who is in her forties. She has a fulfilling life — but not all of her dreams have come true yet. She's met several versions of "Mr. Almost Right" through the years — but no one who made her want to say, "I do." After mulling over our conversation, I wove it into an inspirational contemporary romance about a family physician and an air force fighter pilot.
The first review I read for Catch a Falling Star — I know, I know: Don't read reviews! — said something like this: I had difficulty reading this book because the characters are so old — 36 and 38. I'm just glad they weren't in their forties.
Excuse me?
Reason with me for a moment, please: From a purely realistic viewpoint, my heroine had to be old enough to graduate from medical school and residency, which pushed her close to thirty. (Unless I wanted to write a Doogie Howser, M.D. kind of character.) If I wanted her to have an established medical practice — and I did — she had to be in her thirties. Romance should never trump reality — except in fairy tales.
If you step back and do a more detailed reckoning with the age factor in romance novels, there's a bit of a double standard. The hero can be older — in his thirties or forties — but the heroine is still a sweet, young twenty-something (and in the case of Regency romances, she might even be all of seventeen).
We sigh over young love or a May-December romance — so long as it's Miss May and Mr. December. Why is the thought of heart pounding, where-have-you-been-all-my-life passion a black hole for imaginary characters in their thirties or (gasp!) even their forties? Consider these literary slights:
Pride & Prejudice – The beloved Elizabeth Bennett was all of 20 at the start of Jane Austen's novel. Mr. Darcy? He was 28.
Gone With the Wind – Scarlet O'Hara is 16 years old and Rhett Butler is 33 when they meet at the beginning of the novel.
Romeo and Juliet – Both hero and heroine are about 14 years old when their stars are crossed.
Little Women – Not a straight-up romance, I know. Jo March is 26 when she abandons poor Laurie and marries Professor Bhaer, who is estimated to be about 40.
Nicholas Sparks' popular novel, A Walk to Remember, had 17-year-old protagonists falling in love. (Not to mention other countless YA romances!)
People read romance novels for the temporary escape from daily reality and for the promise of the guaranteed happily-ever-after when the reach "The End." Does the door to "I do" really slam shut in the faces of living, breathing people in their thirties (and older)? Absolutely not! But by highlighting romances where young guy-falls-in-love-with-young-girl, we insinuate that romance somehow has a "use by" date.
 - Beth Vogt
You can pick up a copy of Catch A Falling Star, available in stores and online now. For more inspirational fiction, visit our Everything Inspirational Page.